The Chief Scout Executive of the Boy Scouts of America, Michael Surbaugh, appealed to Amtrak CEO Wick Moorman to upgrade Amtrak's Cardinal from its current tri-weekly service to a daily train. In his December 15 letter, Chief Scout Surbaugh urged a temporary or trial daily Cardinal for the Boy Scouts of America's National Jamboree, which will take place at the Summit Bechtel Reserve in Mt. Hope, West Virginia. Amtrak's Cardinal serves stops all along this area, which directly services the 70,000-acre New River Gorge National River. Looking further into the future, the Boy Scouts will be holding their World Scout Jamboree at this same location in 2019.
The Boy Scouts of America have used their Southwest Chief-serviced location near Raton, New Mexico for large events for many years. As an attendee to the joint All Aboard Ohio and Amtrak "Cardinal Conference" hosted by the Cincinnati USA Chamber of Commerce in September – the Boy Scouts were made aware of the issues surrounding less-than-daily Cardinal service.
The Boy Scouts join a myriad of organizations along the line pushing for better service by those communities which are served by it, including the City of Oxford and Miami University, which moved one step closer to a new Cardinal stop in the city. Derek Bauman, All Aboard Ohio's Vice Chair, stated that, "[w]e are thankful to the BSA for its letter which shows that interest in this enhanced rail service remains strong."
In his letter to Amtrak CEO Wick Moorman, Chief Scout Surbaugh stated "I know I speak for all when I say that enhanced service would be a welcome addition offering the possibility of increased ridership and visitors to the New River Gorge." The state of West Virginia seems to agree, as shown by the unanimous motion passed in favor of daily Cardinal service from the West Virginia Governor's Conference on Tourism. Amtrak itself projected in 2010 that daily service on the Cardinal would result in nearly doubling the current number of passengers utilizing that train.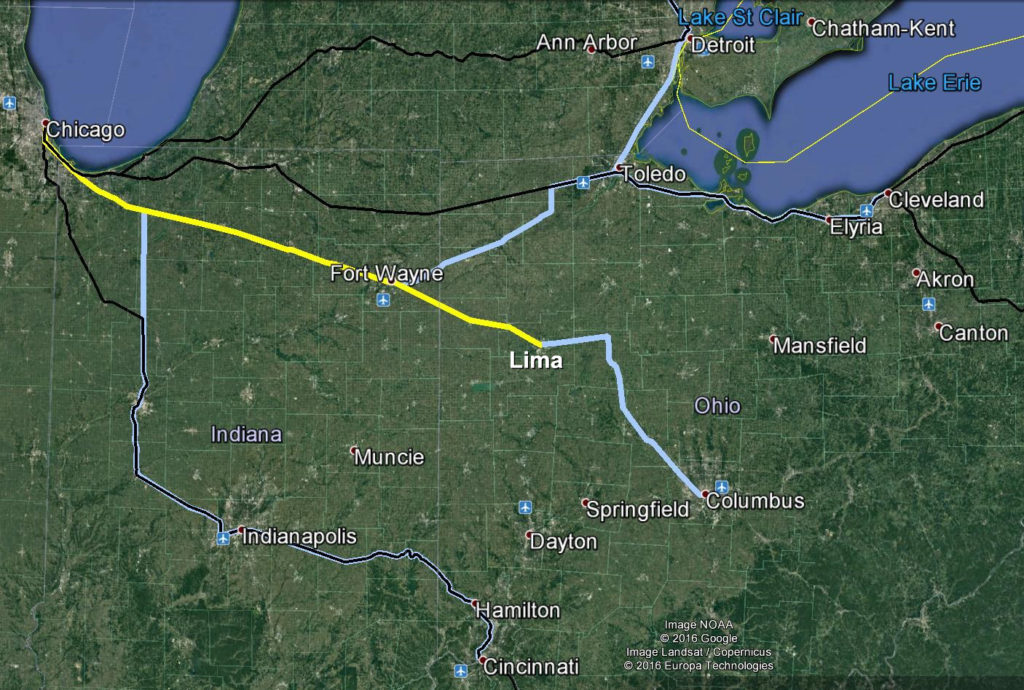 Proposed Amtrak Extensions and Upgrades (map via All Aboard Ohio)
One of the major challenges to running effective train service to Chicago via the Cardinal includes the condition of track on the current route. All Aboard Ohio Chairperson Ken Prendergast told UrbanCincy, "It should be noted that about 50-60 miles of the Chicago-Fort Wayne/Lima nearest to Chicago could be used by Cincinnati to Chicago trains. It would provide a much faster routing into Chicago than the current route of the Cardinal and any other Cincinnati – Chicago trains that may be added in the near future."
Elsewhere in Ohio, a passenger rail line linking rail-starved cities like Columbus and Lima to Chicago via Ft. Wayne and Gary, IN received a major boost on Tuesday. Federal officials gave permission for communities along the line to begin the Alternative Analysis and Public Input process, which will do preliminary engineering, service planning, and measure environmental impacts. Those officials met at Ft. Wayne's Baker Street Station, which saw its last passenger service in 1990. This analysis will being in January of 2017 and finish by the Fall of that same year. The $350,000 needed for this initial studying was raised by cities all along the line.
"This is the first step in the Project Development Process, which all major transportation projects must go through. Right now there is enough funding from communities and businesses west of Lima to do the Chicago-Lima portion but not farther east to Columbus" Prendergast stated.
Prendergast sees these lines as a next step in further connecting Ohio via rail between Chicago and the east coast. If a Chicago to Columbus line is created it is not impossible to  imagine future phases that could expand eastward beyond Columbus as well, Prendergast says, "there's nothing that says the Eastern Terminus of this route has to be Columbus. In fact Amtrak services from Cleveland and Toledo could be routed over this Fort Wayne-Chicago segment. But we still believe Central Ohio will decide it's in their economic interest to be a part of this project."
Officials speaking at the news conference highlighted their big dreams and big plans for the new possible rail line. They called for initial service to run between 70-80mph, with eventual upgrades to 110mph. A 2013 study by the Northeast Indiana Passenger Rail Association estimated that 10 trains a day along this line could generate up to 2 million annual passengers by 2020.
While both of these proposals require the cooperation of the freight railroads who own the lines (CSX and Norfolk Southern, respectively), many have hope because of Amtrak's new CEO, Wick Moorman. Moorman is a veteran of the freight rail industry, having served more than 4 decades with Norfolk Southern and its predecessor, Southern. He has signaled that improved relations with the Class I freight railroads will be a focus of his tenure as CEO.