Ovation, the 25-acre mixed-use development planned by Corporex to transform the northwestern corner of Newport, has completed its first phase of construction with the addition of PromoWest Pavilion at Ovation—a music venue that promises big things for the river's edge. The $40 million concert venue aims to attract hundreds of thousands of fans every year with over 180 acts, both big and small.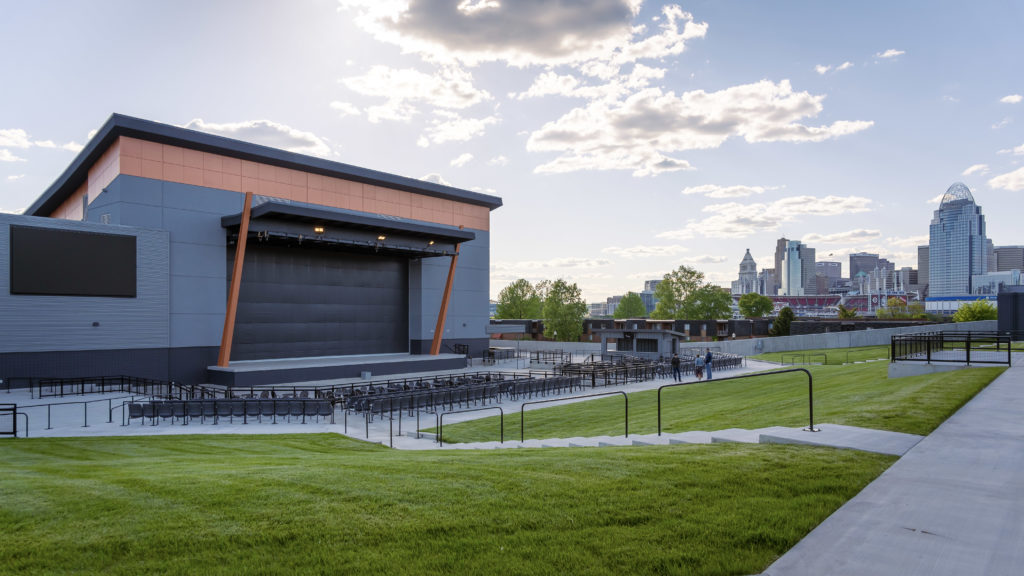 PromoWest Productions, which operates six music venues as well as the Bunbury Music Festival, considers the Newport venue to be their third crown jewel, alongside Express Live! in Columbus and Stage AE in Pittsburgh. All three feature a reversible stage allowing for smaller indoor or larger outdoor configurations, but as the newest, Newport's venue features additional amenities designed to provide the best possible experience for fans, artists, and the production crew.
The multi-level indoor pavilion can accommodate 1500 to 2700 general admission fans plus an additional 428 seated. Outside, the amphitheater can accommodate 7000 general admission plus 1040 seated. The whole venue sits atop a parking garage that boasts upwards of 500 spaces.
Both indoor and outdoor areas feature giant sunken pits in front of the stage with raised levels surrounding them, providing excellent vantage points from every viewing angle. And no matter where you are in the venue, whether it be at the bar getting another round or on your way to the bathroom to get rid of the previous one, TV screens scattered strategically throughout the pavilion will keep you tethered to what's happening on stage.
Murals of well-known musicians enliven the walls of the facility. Inside the VIP lounge on the second level, a mural featuring a TV is animated BLINK-style with a ceiling-mounted projector, adding yet another dimension to an already stunning work of art.
Backstage, six dressing rooms, each equipped with TVs and bathrooms with showers, are poised to make the performing artists' lives as comfortable as possible. A full kitchen will serve as the base for on-site caterers, and multiple production rooms, each with its own private bathroom, are equipped to house show technicians comfortably.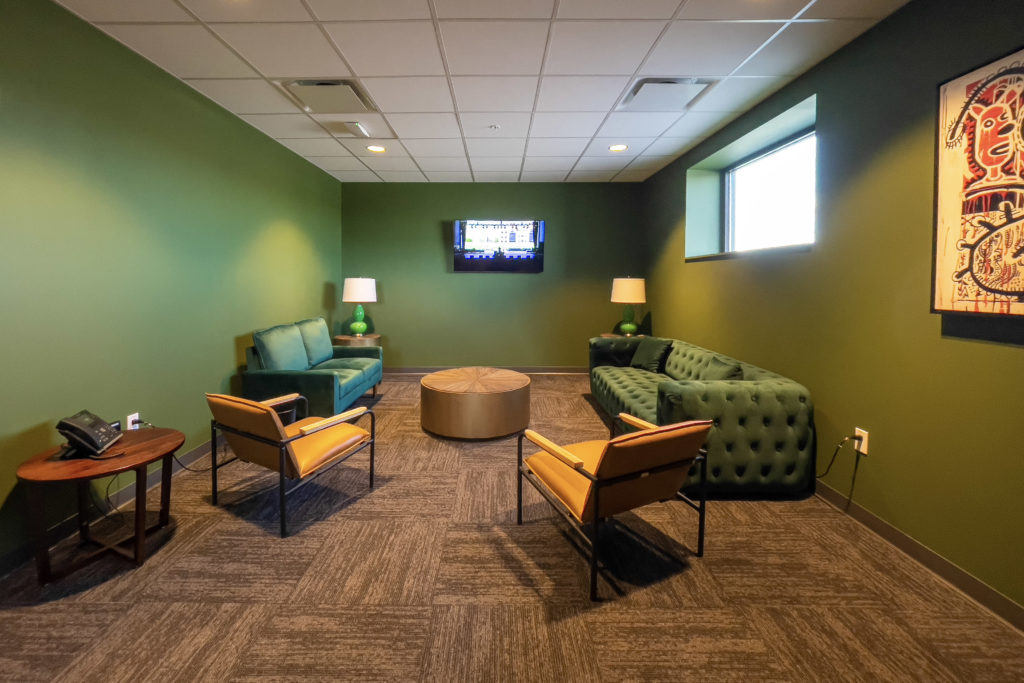 The Green Room on the second level lives up to its namesake by committing to the color in every way possible and can be rearranged to accommodate artists' varying needs. Adjacent to the Green Room is the King Records Room—a versatile, private space embellished with a colorful mural that pays homage to Cincinnati's legendary artists and the historic recording studio in Evanston.
Click the photo below to launch our full photo gallery:
The venue's first wave of acts was announced earlier this morning:
Lady A
Russ
Jelly Roll
Dirty Heads & Sublime with Rome
The Struts
Kip Moore
The Distillers
Jordan Davis
Another wave of artists will be announced on June 15th.
PromoWest Pavilion at Ovation is located at 101 W. 4th Street in Newport, KY, right behind the Campbell County Courthouse. Visit OvationPavilion.com for additional information.