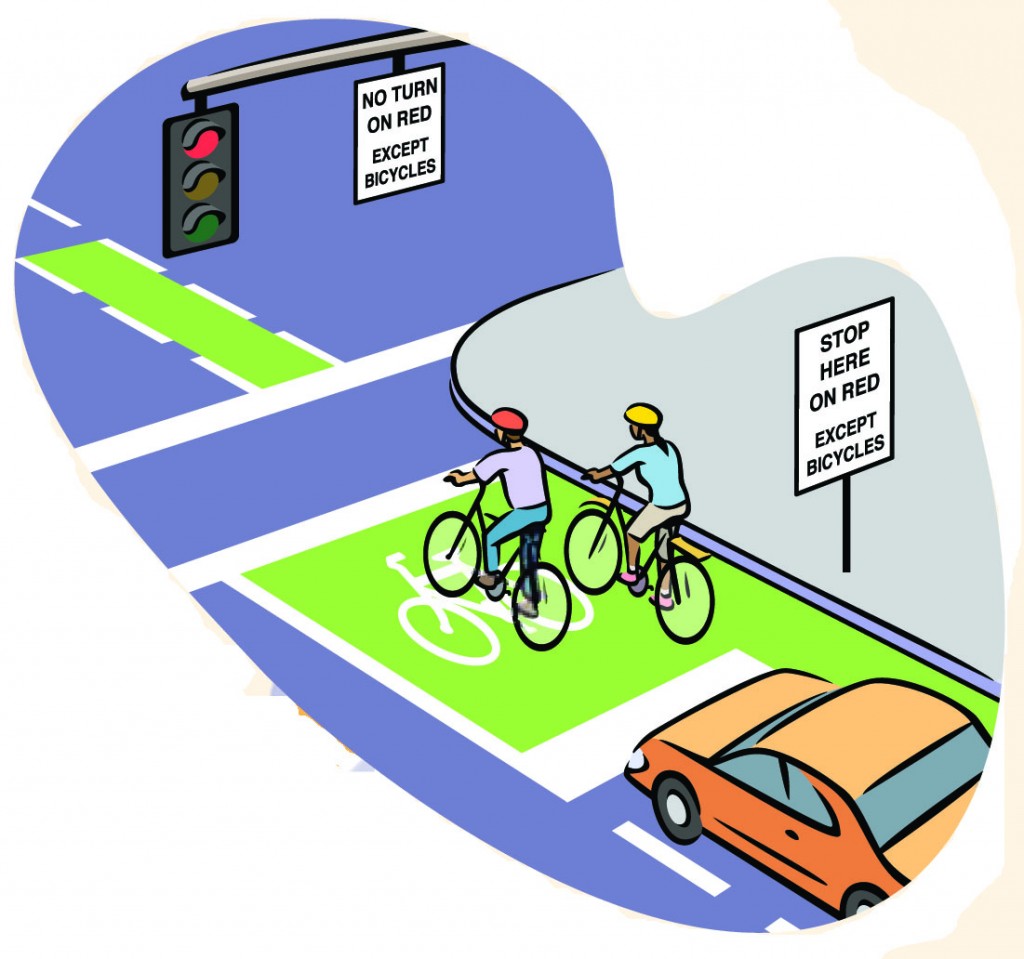 In a bold effort to make Cincinnati more bicycle friendly and inviting for anyone to ride, the City's Department of Transportation & Engineering has partnered with Queen City Bike and community members over the last 10 months to develop a Bicycle Transportation Plan that, in part, calls for 330 miles of new dedicated street lanes and 83 miles of off-street bike paths in addition to the 33-mile collection of bike paths that exist presently.
Cincinnati City Council's Livable Communities Committee will hear these recommendations at their meeting today where a large number of bicycle advocates are expected to appear in support of the plan.  The meeting will be held at City Hall (map) at 6pm.
Recent efforts have included the addition of new dedicated bike lanes, sharrows, bicycle racks, on-street bike parking, and a new regulation requiring the inclusion of bicycle parking inside parking garages.  Progress also continues to be made on the Ohio River Trail which will eventually tap into the Little Miami Scenic Trail and provide a continuous bicycle route from Cincinnati's eastern suburbs to downtown Cincinnati where it will terminate at the new Bicycle Commuter Station currently under construction at the Cincinnati Riverfront Park.
In cities like Vancouver, Portland, Seattle, Washington D.C., New York City, and San Francisco even more is being done to accommodate bicyclists as the number of those utilizing the carbon-neutral form of transportation continues to rise at a rapid pace.
Such efforts being made in these cities include separated on-street bike lanes, enhanced signage, signal timing, and bike boxes which are all intended to make bicycling safer and more accommodating.  As a result, Vancouver has seen a ten fold increase in the number of bicyclists using the Dunsmuir Viaduct since its bicycle improvements were made.  Bicycling there also represents the fastest growing form of transportation in Vancouver with more than 60,000 bicycle trips each day.
In May 2010, Vice Mayor Roxanne Qualls highlighted Portland, OR's use of bike boxes as a best practice citing that the new bike boxes at intersections throughout Portland help to eliminate dangerous "right hook" collisions.  The bike boxes in Portland are colored green boxes on the road with a white bicycle symbol inside that offers a visual clue to motorists to expect bicyclists at the intersection while also positioning bicyclists in front of motorists so that they are not in the motorist's blind spot.
Those interested in speaking at the Livable Communities Committee meeting tonight are asked to arrive by 5:50pm to fill out a comment card.  Free bicycle parking is available at City Hall which can also be accessed by Metro bus service (plan your trip).