Max Grinnell is an author, historian, and professor who excels at sharing unique perspectives of American cities. This June, he will return to Cincinnati to host a series of walking tours titled Out of the Past: Tales from the Federal Writers Guide to Cincinnati On Foot.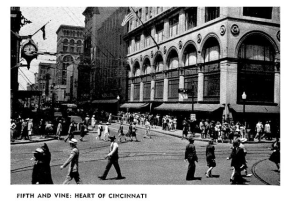 The walking tours are inspired by Cincinnati: A Guide to the Queen City and Its Neighbors, a book published in 1943 for the Federal Writers' Project. This book was a part of the American Guide Series, also known as the WPA guides, which was a program funded by the New Deal to employ writers during the Great Depression. Today, the book serves as a snapshot of 1943 Cincinnati, when the city's population was 455,610 and now-iconic structures like Carew Tower and Union Terminal were just a decade old.
This time period was "a bit of an 'amber' moment" in Cincinnati's history, Grinnell told UrbanCincy, "as this was the Queen City at its industrial peak. I consider [Cincinnati's WPA guide] one of the better city guides produced by the Federal Writers' Project."
This will be Grinnell's forth time hosting a Cincinnati walking tour of this nature. Grinnell says he has refined the concept over the years, adding in even more historical context from other sources. "I've also done a bit more original research through local papers, business directories, and photograph archives from the University of Cincinnati," Grinnell told UrbanCincy.
The 60-minute walking tours will take place on June 2nd, 3rd, and 4th. Tickets are available for $15 per person at Grinnell's website.