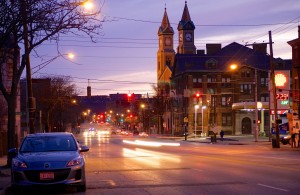 On the 60th episode of The UrbanCincy Podcast, Travis, Randy, John, Jake Mecklenborg, and Jacob Fessler continue our discussion from our previous episode looking back at the 2015.
We start off with a discussion of the Liberty Street Road Diet, including whether bike lanes are needed on this type of street, and also discuss the future of the city's master plan for bikes.
Finally, we discuss the role of industry along the Mill Creek valley and discuss whether Queensgate could have a future that incorporates other uses than industrial.