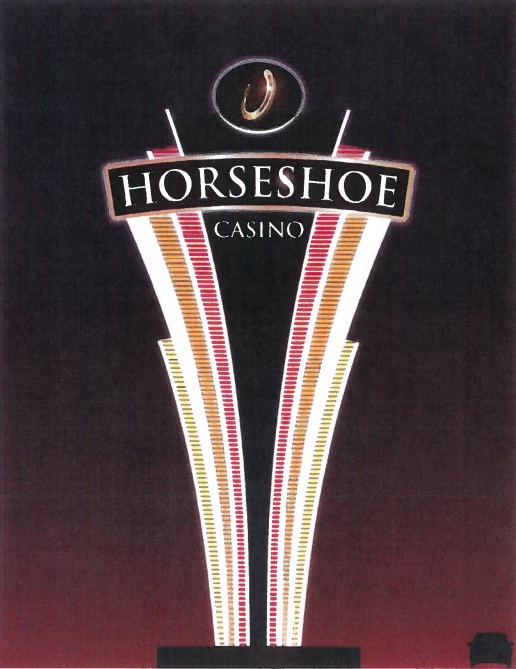 On Wednesday, the City of Cincinnati's Zoning Hearings Examiner will hear a request from the owners of the new Horseshoe Casino asking for the city to grant several variances to the city's sign ordinance for signage at the casino site. Casino representatives are asking for more signage and larger signs than the current ordinance allows.
A variety of signs are included in the package including three signs that will display a real-time count of available parking spaces in the casino garage, and a monument sign that will located along Gilbert Avenue and rise 80 feet in height.
The sign, which is 943 square feet in size, exceeds the maximum allowed signage by 678 square feet in total area and 64 feet in height. According to the plans, the sign will be illuminated and visible along I-71 and up Gilbert Avenue into Walnut Hills, as well as parts of Mount Auburn and Mount Adams. For reference, the sign will be taller than the six-story building currently housing casino construction offices at Broadway Street and Eggleston Avenue, and will dominate the skyline view looking south from I-71 like a peculiar star above the Greyhound bus terminal.
In requesting for the sign variance, casino officials argued that they need the site to be visible to drivers along I-71. Once erected, the sign will tower above the casino complex and adjacent highway as a beacon of hope and good fortune to gamblers, and serve as a landmark to those traveling through downtown Cincinnati.
Residents living along Reading Road and in Mount Adams will also be able to bask in the comforting warm neon glow emanating from the sign at night. In fact, some may never need a night light again!
Some neighborhood leaders have raised concerns that the meeting is being held without enough notice for neighborhood councils; however, it seems to be in the city's interest to get this sign up as soon as possible so suburbanites have plenty of lead time to know exactly where the casino is and how many parking spaces are free in its breathtakingly massive parking garage.
Already, out-of-towners are looking to flock to the casino but are unsure of its exact location.
"I was approached by a woman at the airport the other day and she asked me where the casino was being built," disclosed UrbanCincy Chief Technologist Travis Estell. Thankfully, the woman will now know where the casino is with this gargantuan sign!
Springboro resident Chris Cousins also shared his enthusiasm for the proposed sign saying, "I'm really looking forward to dining at the casino's buffet and this sign will point me in the right direction."
The meeting will take place Wednesday, October 24 at 9am in the Permit Center located at 3300 Central Parkway (map). This facility is served by Metro's #20 bus route.