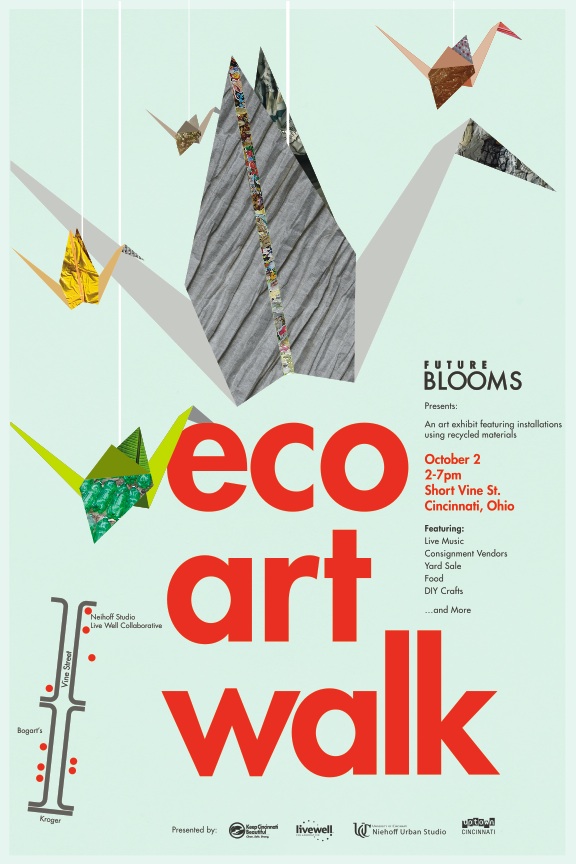 Cincinnati residents have the chance to get their eco on this weekend with two free events. The Future Blooms' Eco-Art Walk in Corryville will take place on Saturday, and the 2010 Ohio Solar Tour will go on across the entire state on both Saturday and Sunday.
The Eco-Art Walk is a brainchild of non-profit Future Blooms, a division of Keep Cincinnati Beautiful that focuses on painting abandoned and boarded up buildings in the center city in order to reduce crime and blight. Since October 2009, Future Blooms has painted over 150 buildings, and are now hosting the Eco-Art Walk tomorrow from 2pm to 7pm.
The Future Blooms team has been working hard, and on Saturday will reportedly unveil a series of artist-designed painted storefronts on Short Vine from Corry Street to Charlton Street (map). The group will also have a display of recycled art. During the event, Short Vine will be closed to automobiles, and visitors will be able wander the streetscape, listen to live music, purchase food and handmade crafts from vendors, and participate in a "freecycle" sale.
Following the completion of the City's award-winning Neighborhood Enhancement Program in Corryville, city leaders are excited about the potential for this weekend's event.
"City Council is of the opinion that the Short Vine Eco-Art Walk would focus attention upon the Short Vine Street beautification efforts, the City of Cincinnati's recycling program, and promote regional tourism," City Manager Milton Dohoney stated.
Meanwhile, the 2010 Ohio Solar Tour will take place all over Ohio, and will showcase businesses, non-profits and homes that have invested in green energy technology through a series of public open houses. The is expected to provide a unique opportunity for the public to visit and talk with owners living and working with clean energy technologies. The open houses will showcase everything from solar, wind, biomass, green design, and energy-saving technologies.
For Cincinnatians, there are 29 sites within a five-mile radius of the 45202 zip-code. Notable stops include the newly renovated offices of KZF Design and the Potterhill Homes Northwind Community in Northside. For those feeling the desire to traverse the state in search of clean energy buildings, there are both guided tours and the chance to make your own.