The 2010 National League Central Division champion Cincinnati Reds will take to Fountain Square tomorrow afternoon to celebrate the club's 91-71, and its first playoff appearance since 1995.
The Reds Rally on the Square will take place from 2pm to 6pm and include the entire team and coaching staff, legendary broadcaster Marty Brennaman, President and CEO Bob Castellini, General Manager Walt Jocketty, Hall of Famer Joe Morgan, and more.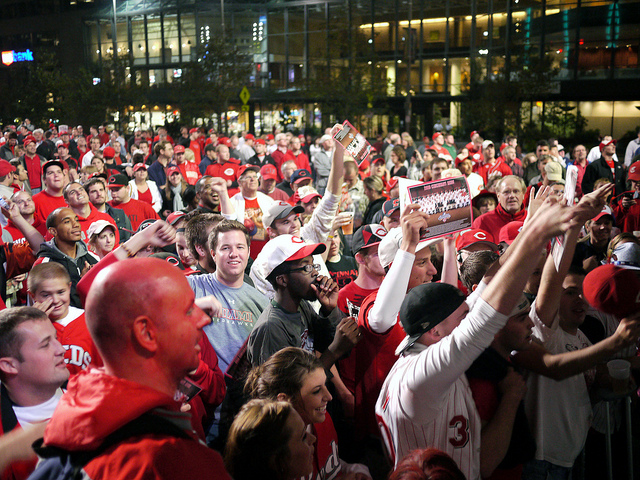 Reds officials say that the team will appear on Fountain Square around 3:30pm before they depart for Philadelphia for the National League Division Series. Many of the players and team leaders will give brief speeches to the crowd.  Event organizers also say that food and drink will be available, and that live music will be provided by Funky G and the Groove Machine. Gapper, Mr. Redlegs, Rosie Red, and the Reds Rally Pack will also be on-hand to entertain the crowd.
"This is a unique opportunity for Reds fans to send off their team as we take the first step in the 2010 Postseason," Bob Castellini said following the Reds final victory of the season Sunday afternoon. "It's sure to be an exciting experience for our fans, and we want to show our players, coaches and staff that all of Reds Country is behind them as they begin their playoff run."
Reds fans first gathered on Fountain Square immediately following the teams division-clinching performance against the Houston Astros on Tuesday, September 28. Following that game hundreds of fans gathered on Cincinnati's central gathering space to celebrate the big win and meet several players who celebrated at Mynt Martini later that night.
The Reds (91-71) will face the Philadelphia Phillies (97-65) in the first-round of the playoffs. Philadelphia will hold home field advantage, and host the Reds on Wednesday, October 6 at 5:07pm and Friday, October 8 at 6:07pm.  The Reds are scheduled to host the Phillies on Sunday, October 10 in game three of the NLDS.