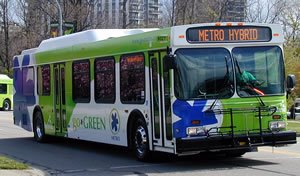 The Southwest Ohio Regional Transit Authority (SORTA) will debut three new hybrid buses on Thursday, August 5.  The new buses will join a Metro bus fleet that is seeing the number of environmentally friendly buses grow with the help of federal funding through the American Recovery & Reinvestment Act (ARRA).
"As Metro's fleet gets greener, Cincinnati's air gets cleaner" said Marilyn Shazor, Metro's CEO. "Mass transit itself is an important and easy way to go green, and our hybrid buses illustrate our system's commitment to environmental responsibility."
Metro officials have estimated that in the first year of operation, the existing six hybrid buses have reduced greenhouse gases by 190 tons, provided 330,000 "green" rides, traveled 210,000 miles, and saved the transit agency 7,000 gallons of diesel fuel.
The savings are particularly important as transit officials look to deal with fewer people riding transit due to the economy, and lower financial contributions from the City of Cincinnati's earnings tax which contributes 3/10th of one percent of that tax. In addition to the economic benefits, officials see the growing hybrid fleet as a positive for the local environment.
"Smog is a problem in the Cincinnati area and Metro's purchase of cleaner, lower emission buses is a positive step toward helping clean up our air," said Cory Chadwick, Director of the Hamilton County Department of Environmental Services. "In fact, everyone can help by increasing their use of public transportation, especially by choosing to ride a diesel-hybrid bus with significantly lower exhaust emissions, better fuel economy, and a quieter ride than a standard diesel bus."
The new hybrid buses will be on display at Ault Park (map) from 10am to 11am, and on Fifth Street between Walnut and Main (map) from 12pm to 1pm. Metro now has nine hybrid buses in its fleet, with another four to be added in fall 2010.