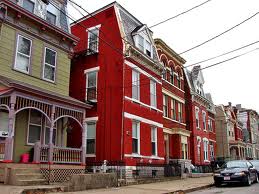 The Cincinnati Preservation Association (CPA) will be hosting a seminar on historic building receivership Saturday, August 7 in Camp Washington. The executive director of the Camp Washington Community Board will be in attendance to discuss that neighborhood's approach to saving, renovating, and reselling buildings that might have otherwise been lost due to neglect.
Originally settled in 1846, Camp Washington is one of Cincinnati's many historic neighborhoods. Over time the neighborhood has seen dramatic changes with the introduction of Interstate-75 in the mid-twentieth century. Since that time the community has dealt with a neighborhood street grid detached from its surrounding neighbors while also trying to adjust to changing demographics that led to disinvestment, and back to popularity today.
The issues faced by the historic Camp Washington neighborhood are similar to what many inner-city neighborhoods faced during the second half of the 20th century. Its urban revival is a narrative that is also ringing true with others, but the neighborhood's historic preservation success is an element CPA believes can help other neighborhoods around the region.
CPA's Saving Buildings With Receivership seminar will take place from 10am to 1pm on Saturday, August 7 at 2951 Sidney Avenue. The seminar will include a tour of a current receivership project underway in Camp Washington. Reservations are required due to limited space. Those interested can register for $5 by contacting CPA at (513) 721-4506 or info@cincinnatipreservation.org.  You can also RSVP for the event on Facebook.