If you had thought that former Enquirer columnist Peter Bronson was gone, you were wrong. In the most recent publication of Cincy Magazine (not to be confused with Cincinnati Magazine), Bronson wrote a vanity piece about the new $322 million Great American Tower at Queen City Square.
The 800,000 square-foot office tower is adding a large amount of modern office space to Cincinnati's central business district while also dramatically altering the city's famous skyline long dominated by the historic Carew and Central Trust towers. What was interesting about Bronson's story is that he took a platform for which he enthusiastically touted the new tower and how it was accomplished, and turned it into an opportunity to lob attacks at other major projects like the Cincinnati Streetcar and The Banks development along the central riverfront. It took Bronson no more than eleven sentences before he dove head-first into his attack of both projects.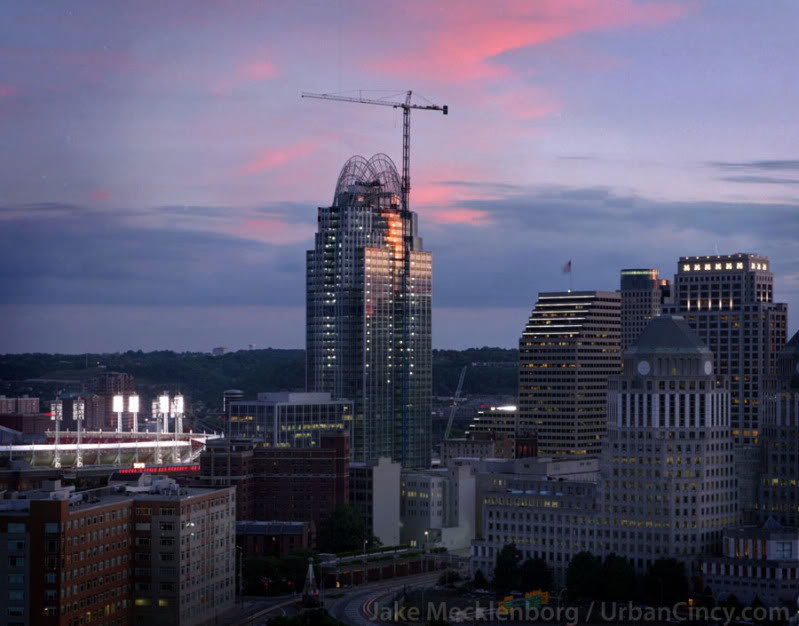 "But the biggest building project since Carew Tower in 1930 has been overlooked, as politcos and mediacrats chatter about streetcar fantasies and the geologic progress on The Banks," Bronson exclaimed. "While City Hall itches to spend more than $100 million on trolleys, while county leaders lean on chrome shovels and declare victory on the 14-year Banks promise, the $400 million Great American Tower has risen from the ground like Jack's Metropolis beanstalk."
Aside from Bronson's factual errors about the tower's price tag, it being the largest building project since Carew Tower (The Banks, UC complete rebuild, hospitals, Paul Brown Stadium, Great American Ball Park), or his odd comparison with Tabart's famous English fairy tale, what is most striking is his unprompted attack on other major development projects to help further promote his beloved metropolis beanstalk.
The new tower does speak to Cincinnati's ability to get things done during tough economic times, but lets not forget that the Great American Tower at Queen City Square is a vision that dates back to the 1980s as Atrium III, then more contemporaneously in the 90's with the Queen City Square moniker. At that point the tower was envisioned as a towering brick skyscraper complete with a dramatic spire on top. But aside from that, Mr. Bronson continued.
"In less time than it took to name The Banks or buy one streetcar, Barrett and the Lindners at Great American Insurance have remodeled Cincinnati."
Now there is a name we all know…the Lindners, Cincinnati's old money power family. Over the years, the Lindners have at some point owned Kings Island, the ATP Tennis Center, Chiquita, Great American Insurance, United Dairy Farmers, and even the Cincinnati Reds. But what does this have to do with The Banks development or the Cincinnati Streetcar, well Mr. Bronson gives us some insight later in the same Cincy Magazine piece.
"The city has put $5.5 million into infrastructure improvements for Queen City Square, but Western & Southern put up nearly 10 times that much, and has invested $500 million in city projects over the past six years. "If the government subsidizes it, it's not going to work," Barrett says. "We need private money in it, our stake. That's the entrepreneurial spirit."
Ok, now we're getting somewhere. Those conservative talking points ring loud and clear to anyone who has advanced beyond middle school social studies.
In 2004, the Lindner family raised more than $300,000 for the Republican Party through their regular household parties and other events, and in 2005, Carl Lindner Jr. was among a mere 53 entities that gave a maximum $250,000 to support the second inauguration of the beloved President George W. Bush.
So what Bronson has done, is effectively frame both the Cincinnati Streetcar and The Banks development as some sort of government subsidized projects that have been poorly run, thus further supporting the conservative talking points littered throughout this Cincy Magazine story. The problem is that Mr. Bronson failed to mention that Queen City Square also received $45 million from the Port of Greater Cincinnati Development Authority (which also owns the land) in addition to the millions of dollars it received from the city.
The problem here is not just the overtly political leanings of this story, but rather the unnecessary and unprompted attacks of other development projects in the area. The Cincinnati Streetcar is expected to be taking on its first passengers in early 2013, and the first-phase of The Banks will house its first resident next spring. This means that in a span of six years the Cincinnati Streetcar will not only have been envisioned, planned, funded, but built as well. Meanwhile, The Banks will have its first-phase completed in 14 years which includes two stadiums, a reconstructed Fort Washington Way, museum, and transit center. Both projects will have been completed in significantly less time than the 30-year vision that has been Queen City Square.
So what does this tell us? Well firstly it tells us that large development projects take significant amounts of time. It also tells us that the old money, political interests in Cincinnati are still strong and they are still fighting to remain relevant as a new generation steps up to the plate with a new vision for Cincinnati.
Over the past 50 years, this old generation has overseen Cincinnati through a period of decline.  Now a new generation wants to restore Cincinnati to its previous stature and beyond.  So, the final thing this tells us is that the next generation of leaders and visionaries will have to fight to rip control away from the cold death grip of Cincinnati's old money power brokers who still obviously have the influence and authority to do what they wish.