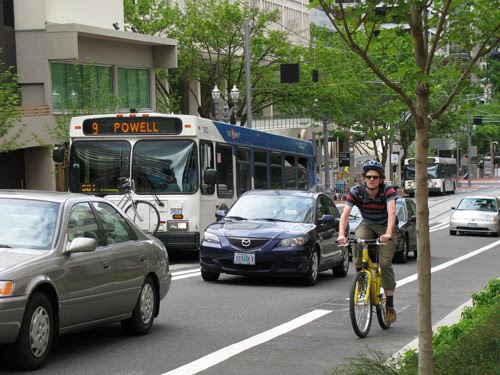 In addition to the progressive Bicycle Transportation Program unanimously adopted by Cincinnati City Council last week, Cincinnati policy makers also approved safety ordinance that will be one of the most comprehensive of its kind in the region, and even stricter than what is found in Chicago.
"What this plan really does is not add additional transportation infrastructure," said Gary Wright, President, Queen City Bike. "It adapts the existing transportation infrastructure to new needs in a cost-effective way."
The new safety ordinance approved 8-0 by Cincinnati's City Council requires motorists to maintain a three-foot distance when passing bicyclists. The ordinance also makes driving or parking an automobile in a bike lane illegal, and places extra responsibilities on drivers when opening doors as to avoid endangering bicyclists.
"This bike plan can help turn this into the 21st Century city that we all want it to be, one that can look forward to more streets, shops, cafes, and parks filled with people, where people will want to be," Wright concluded.