In 2003, the City of Cincinnati opened the $9 million, 400-space 7th & Broadway Parking Garage.  The above-ground parking garage was designed to eventually accommodate a 12-story condo tower addition on top that would create approximately 166 condo units.  The condos have yet to materialize, but more parking space has.
Early on the project was once seen as a potential site for a new downtown grocery in an area surging with new residents at the nearby loft conversion projects including Sycamore Place and the Renaissance Apartments.  But while condo projects flooded the downtown Cincinnati market, the developers of the proposed Broadway Tower at St. Xavier Place were unable to get in on the action.
As part of the initial agreement, the City paid $2 million for structural supports that would support the residential tower envisioned atop the parking garage – a figure City officials expected to recover upon completion of the residential tower.  To guarantee such a return officials gave developers, a partnership between Al Neyer Inc. and North American Properties, until June 2010 to apply for a building permit for the residential tower, and while the residential tower is no where in sight, an expanded parking garage is nearing completion.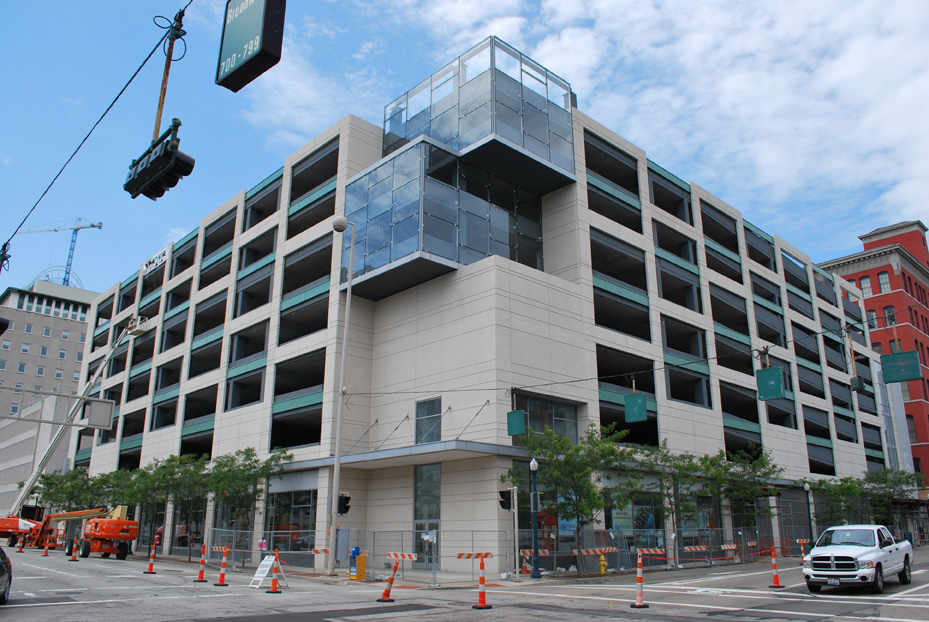 Procter & Gamble announced last year that it would relocated 650 employees from its Governor's Hill location to its world headquarters in downtown Cincinnati.  As part of that move P&G needed additional parking for its expanded downtown workforce, and the City was eager to provide that by expanding the 7th & Broadway Parking Garage.  The additional employees will add approximately $630,000 annually in payroll tax revenues, but also seems to be the proverbial nail in the coffin for a bold project that would have put an exclamation point on northeastern downtown's residential resurgence.
The inability to get the residential project done during relatively good market conditions eventually led developers to the housing crisis of 2008 which has basically paralyzed the housing market ever since.  The net result might be good for city coffers, but for downtown Cincinnati it means 650 more part-time occupants, hundreds of new parking spaces and more than 300 fewer residents.  If people come first, then you would have to view this as a net loss for downtown.