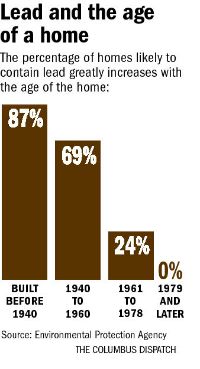 The Cincinnati Preservation Association (CPA) will be hosting seminar on how to safely work around lead paint, and how new rules from the Environmental Protection Agency (EPA) might affect your renovation project.
During renovation or repainting work, toxins found within lead paint can become a health risk for humans. As a result, many regulations have been developed to help guide this kind of work and keep those performing the work safe from any potential toxins.
According to building officials, lead paint is more prevalent in buildings built or painted prior to 1977 when lead paint was banned by the Consumer Product Safety Commission. New regulations passed by the EPA in April 2010 require that all renovators who work on homes built before 1978, and disturb more than six square feet of lead paint, be Renovation, Repair & Painting (RRP) certified. It is estimated that the new regulation will impact more than 100,000 renovators in the United States.
Event organizers say that the seminar will include presentations from Aisha Tzilla of the City of Cincinnati Community Development Department and Bill Menrath of the University of Cincinnati.
Lead Paint: Renovate Safely, Learn the New Regs will be held on Saturday, September 25 from 10am to 12pm. The event will be held at Building Value located in Northside at 4040 Spring Grove Avenue. Reservations are required due to limited space, and can be made by contacting CPA at (513) 721-4506 or info@cincinnatipreservation.org. Admission costs $5 for CPA members and $10 for the public.