City officials have announced that Vine Street has been chosen as the path for the Cincinnati Streetcar to reach the uptown area. The decision comes after a comprehensive study was conducted to determine which route would best connect downtown with uptown, while also best managing the steep hillsides there.
"Our direction from city council has always been to 'connect the dots,' but to do so in a way that was fiscally responsible," stated Cincinnati City Manager Milton Dohoney in a prepared release. "The Vine Street route accomplishes that."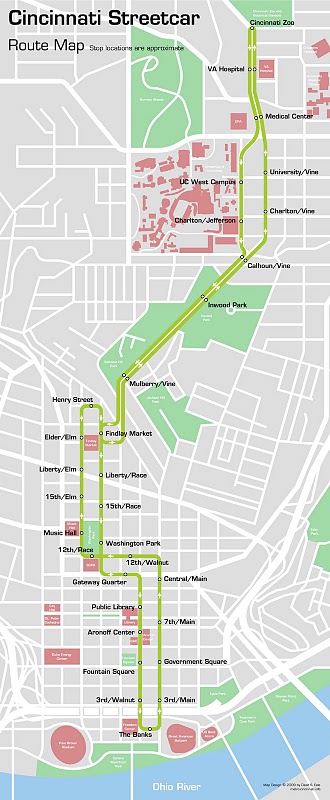 The Vine Street route is estimated to cost $20 million less in capital costs, offer $250,000 in savings annually in operations, pose fewer engineering challenges, and also offer greater options for future expansions than the West Clifton Avenue alternative. According to City officials, Vine Street and West Clifton Avenue stakeholders have been meeting to discuss the alternatives for months, and that the group had been informed of the final decision yesterday.
One of the primary objectives of the study was to determine how to best navigate the steep hillside leading to and from the uptown area. In this case, Vine Street's maximum 6.7 percent grade scored much better than West Clifton Avenue's maximum 8.9 percent grade. The project team said that while United Streetcar/Oregon Iron Works, Siemens, Inekon, Kinkisharyo, and Bombardier all could build modern streetcars to handle such grades, the preference was for engineering simplicity.
In addition to the engineering aspects, many streetcar supporters believe the selected route to get uptown will present greater opportunities long-term.
"The Vine Street route will offer the fastest service between Cincinnati's two largest employment centers," said Brad Thomas, Founder, CincyStreetcar.com. "The route also presents the greatest opportunity for future expansions including extensions west to Clifton Heights, north to Avondale and Corryville, or east to Walnut Hills."
To date, the city has secured $114.5 million out of the total $128 million to build the entire first phase running from Cincinnati's central riverfront to its uptown neighborhoods. The modern streetcar system will be the first of its kind in the Midwest and one of only three like systems in the United States. The first construction is expected to begin fall 2010 with the first passengers riding in early 2013.