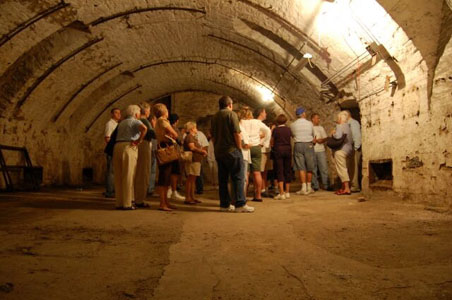 What does September mean in Cincinnati? Oktoberfest of course! One of the area's favorite festivals, in all of its German heritage, food and beer splendor, returns downtown September 18-19. In addition to the traditional consumption of bratwurst, märzen lagers, and chicken dances, the Over-the-Rhine Brewery District is teaming, once again, with the Christian Moerlein Brewing Company to host a series of tours focusing on Cincinnati's rich brewing history. The three separate, but intermingling, tours will be offered at various times on both Saturday and Sunday and all three will begin and end at the future home of Christian Moerlein brewing operations (located at 1621 Moore Street in OTR).
The first is the popular Prohibition Resistance Tour which is run by the Over-the-Rhine Brewery District every year during Bockfest in March, and now during Oktoberfest as well. This two-and-a-half hour tour begins with a historical overview of the brewing in Cincinnati, followed by stops at six different breweries including descending 30 feet underground into abandoned lagering cellars for an authentic glimpse of Cincinnati's brewing past. This particular tour has typically sold out quickly and OTR Brewery District executive director Steve Hampton says that tickets have been selling just as fast this time around. The tour includes a beer ticket and costs just $30, so make your reservations soon.
A second tour will highlight the release of Mike Morgan's new book entitled Over-the-Rhine: When Beer Was King. This new tour will take participants along the length of Vine Street through Over-the-Rhine, allowing them to travel through both the Crown and Kauffman breweries while also learning about OTR's early history and politics from the author himself. Tour organizers say that Morgan's tour will only be offered at two times this weekend: Saturday at 3:10pm and Sunday at 3:20pm. Each tour will last approximately two-and-a-half hours and include the requisite beer ticket. Tickets cost $35, however $45 gets you a ticket for the tour as well as a signed copy of Over-the-Rhine: When Beer Was King.
The third and final tour is much more informal, free, and included in both of the aforementioned tours. Throughout the weekend people are encouraged to stop by the former Husman Potato Chip plant to check out the future home of Christian Moerlein brewing operations and get a look at the the planned brewery layout, future equipment placement, and renderings of the new Christian Moerlein Lager House taking shape on Cincinnati's central riverfront. The tour will be offered approximately every 40 minutes.
As a special early kick-off for these tours, please join the OTR Brewery District this coming Thursday, September 9 at 10am, as volunteers Reconnect the Kauffman. During this "open to the public" event a wall, sealed during prohibition and blocking an underground tunnel, will be ceremoniously torn down to reconnect 2 buildings of the Kauffman Brewery, which at its height was the 4th largest in the city.
For those interested in being more involved with the Brewery Districts efforts, or just more involved with beer in general, volunteers are still needed both for the tours, and for serving beer through out the weekend at the future Christian Moerlein Brewery in OTR. Get your tickets soon and please sign up to be part of this great Cincinnati weekend. Cheers!