Earlier this year Cincinnati City Councilmember Laure Quinlivan introduced a program that was intended to help embrace the city's growing number of food trucks. Once approved in June 2010, the Mobile Food & Beverage Truck Vending Pilot Program created reserved, city-owned spaces for those food trucks to park at in the congested downtown area.
The pilot program received an initial surge of food truck operators looking to take advantage of the new program, and now, the City has issued the twentieth Revocable Street Privilege (RSP) to allow the sale of food and beverage from trucks at the three designated areas downtown at 5th & Race, along Court Street, and at Sawyer Point. This means that the program is now operating at 100 percent capacity.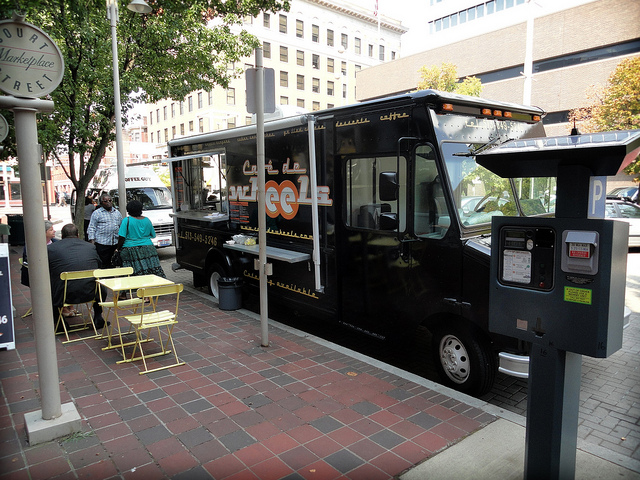 This rise in popularity for food trucks in Cincinnati is similar to a national movement that has been underway for several years. To help celebrate the success of Cincinnati's innovative program that embraces the movement, six participating food trucks will be at City Hall tomorrow to help raise money for the United Way of Greater Cincinnati.
Event organizers say that hungry guests will be able to get everything from gourmet burgers to Cajun food, barbecue ribs, tacos, ice cream, coffee, and smoothies from the participating vendors. They say that each donation made to the United Way will help support the City's United Way fund raising goal, and will earn you a discount at the food truck vendors on-hand. Those vendors will reportedly include Taste of New Orleans, Cafe de Wheels, Just Q'in Barbecue, Senor Roy's Taco Patrol, Coldstone Creamery, and The Coffee Guy.
The food trucks will be parked on the north side of City Hall along 9th Street (map) beginning at 10:30am on Thursday, September 23. There will be a Department of Community Development staff member on hand from the City that will be selling the tickets that will get you your discount at the food trucks and support the United Way.
Stay up-to-speed on the whereabouts of Cincinnati's growing number of food trucks by following UrbanCincy's comprehensive Twitter list.