Chef Josh Campbell plans to create a food trifecta in what Downtown Cincinnati Inc. calls the greater downtown area. Already owner of successful ventures World Food Bar, a gourmet prepared food stand at Findlay Market, and Mayberry, a mid-range restaurant on Vine Street, Campbell is expanding his food empire to include the Central Business District's first grocery – a micro-market located at 7th and Main.
"Everything closes so early down here [in the CBD]," says Campbell. "I was hearing from the folks who come to Mayberry, that live down here, that Findlay Market closes so early, and there's no place to get the necessities. Nobody ever looks out for the residents of Downtown. We've been so lucky with the support of everybody in the city and in the news, we've made a name for ourselves that we serve a quality product. So we thought, why not make a run at the grocery scene?"
The 500 square-foot Mayberry Foodstuffs, the tentative name for the new venture, will be filled to the brim with grocery essentials according to Campbell.
"It won't be high end, it won't be low end. It's all about the shopping experience. Anybody can come in here and pick up the necessities. We'll be carrying smaller portions – half gallons of milk, half loaves of bread. You can come in and you're not going to get ripped off."
Through the World Food Bar and Mayberry, which celebrates its first year of existence November 2nd, Campbell has established both a love for community and a commitment to high quality food at reasonable prices. The store will have a deli counter, serving meats and prepared food from World Food Bar, like cookie dough and soups. There will also be fresh-ground peanut butter, cat and dog food, and and old-school style candy counter.
Though the space is small, downtown supporters expect the impact to be large. One of those supporters includes David Ginsburg, President and CEO of Downtown Cincinnati Inc., who is ecstatic that Campbell is making this bold move.
"Grocery stores really help to enhance the residential experience downtown," Ginsburg explained. "They provide important products and help generate pedestrian activity. They are a sign of an increasingly vibrant downtown. Grocery stores are also an amenity for downtown workers and visitors."
Currently there are about 9,000 residents in the downtown area; by 2012 that number is projected to grow to 12,500, according to the 2009 State of Downtown report from DCI. Campbell said he understands the risks associated with opening a grocery store in the central business district.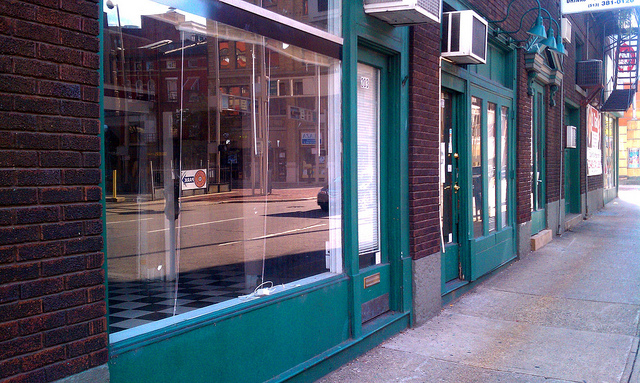 "You have the bigger chains, the Krogers and the Whole Foods, and they won't come down because the risk is too great," Campbell exclaimed. "I'm not afraid to step up, I'm not afraid of failure. If it happens, it happens. We'll move on."
Not only will workers and residents be able to visit Mayberry Foodstuffs for a sandwich or some eggs, but they might also be able to get delivery service from Findlay Market vendors. Campbell says that he wants to help support the local mom and pop shops that are the key to local success. One such way the new grocery will do that is by carrying 7 Hills coffee and other locally-sourced items.
In terms of the location, Campbell views the 7th and Main address as a perfect one thanks in large part to the number of condos and apartments nearby. The store will also be located on the Cincinnati Streetcar line which Campbell believes will help spur additional foot traffic.
Campbell has signed a one-year lease on the street-level retail space, and plans to open downtown's first grocery store on Monday, November 1. After the opening date, Mayberry Foodstuffs will be open seven days a week until 10pm.
Above all though, Chef Josh says that he wants to create a sense of community around his micro-market.
"We want [Foodstuffs] to be a place where you come in and you're not a number. We want you to come in and enjoy yourselves. We want to make sure that your needs are filled and that you have a good experience."
If all goes well, Campbell says there might be additional micromarkets on the horizon from the World Food Bar Restaurant Group to continue to help serve the growing downtown area.
[This story was originally produced by UrbanCincy.com for the Cincinnati Business Courier through a newly formed partnership.  Please read the originally published story online, and stay tuned for additional collaborations going forward.]