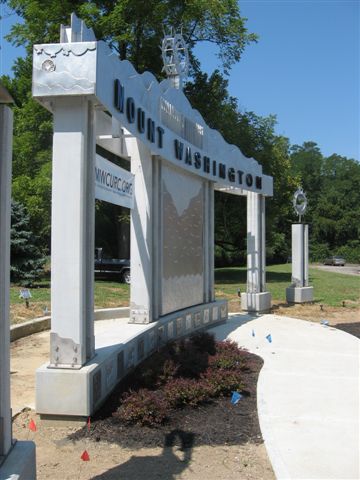 Mt. Washington community leaders will be joined by Cincinnati Vice Mayor Roxanne Qualls, representatives from Kroger, and other members of City Council to unveil a new gateway monument at the north end of the neighborhood's business district.
City leaders say that the monument will also serve as a gateway to, and extension of, the city-owned Stanbery Park.
"The monument will serve as a welcoming feature not only for the business district, but for the park as well," says Ed Ratterman, Senior Development Officer, City of Cincinnati. "Stanbery Park is a major asset for Mt. Washington and we hope that this will help attract a few more people there."
The $95,000 monument is being unveiled in combination with approximately $24,000 in streetscaping enhancements throughout the business district that include new benches and 33 planters along Beechmont Avenue. The enhancements also include 10 new recycling receptacles that will serve as the foundation for the first public recycling program in one of Cincinnati's neighborhood business districts.
"This was something that was very important to the Mt. Washington Business Association, and they wanted to include the recycling receptacles in this project," Ratterman explained.
What makes the new recycling receptacles even more unique is their design which was created by local artist Edward Casagrande who also designed the new gateway monument for the business district. City officials say that the Office of Environment Quality has assumed the costs for Rumpke pick-up at these recycling receptacles for the first year.
According to Ratterman, the two projects were largely paid for by Cincinnati Neighborhood Business Districts United (CNBDU) which provides approximately $2 million annually for improvements throughout the city's neighborhood business districts. An additional $7,000 was contributed by Keep Cincinnati Beautiful, while the Cincinnati Park Board helped to oversee the design components of the gateway project.