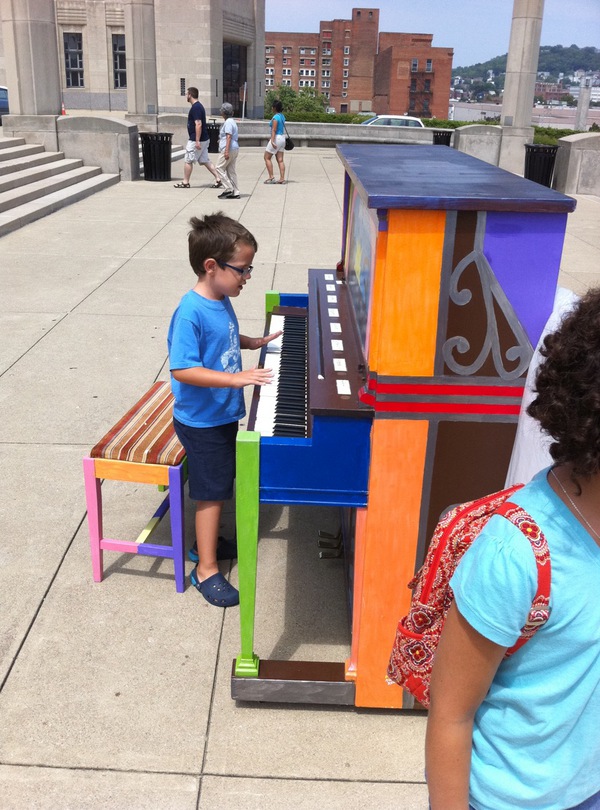 Cincinnati has joined a collection of international cities hosting a traveling public art and performance spectacle that is called Play Me, I'm Yours.  The Cincinnati exhibit will place 42 pianos in public spaces, across the Cincinnati region, that will be there for residents to play, listen to, and interact with.
Originally started in 2008 by Luke Jerram, Play Me, I'm Yours has entertained and fascinated those in London, New York, and Barcelona so far in 2010.  The timing of the pianos arrival coincides with the anniversaries of three local public radio stations – 90.9FM WGUC, 91.7FM WVXU, and 88.5FM WMUB.  Most of the pianos will be available from August 9 to 27, with a select few staying a bit longer.
The public interactive exhibit will offer Cincinnatians a chance to get out and explore the city, and create their own art by playing music or interacting with those that are.  According to British artist Luke Jerram the exhibit is as much about communities coming together as it is about music.
Many of the pianos were designed by local youth through ArtWorks' summer jobs program.  Following the exhibit the pianos will be donated to local art centers to further enhance the arts for children locally for years to come.
Aside from having pianos set up in public spaces, Cincinnatians will be able to utilize the Play Me, I'm Yours homepage to share with each other, and the world, what is happening here by uploading pictures and videos.  And beyond the spontaneous performance at the pianos, up to three special performances may be organized per piano each day through the exhibit's website.
A total of 18 of the 42 pianos installed throughout the region are located within Cincinnati's center city at locations such as Cincinnati Museum Center, Findlay Market, Fountain Square, and Great American Ball Park. Some of those, like the Sawyer Point piano, will be available all day, every day, while others, like the one at the Cincinnati Zoo, will only be available during business hours.  A list of of all the pianos, their locations and details can be downloaded online.
Play Me, I'm Yours officially runs for three weeks starting with a kick-off celebration on Fountain Square from 11am-1pm on Monday, August 9 where two of the pianos will be located.