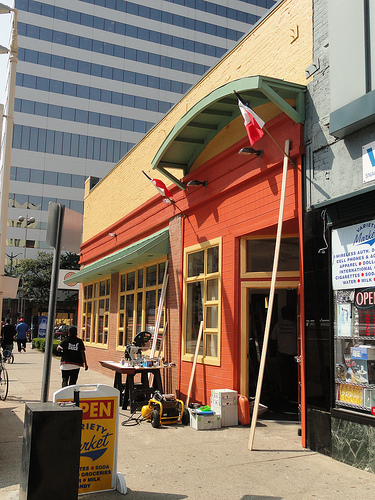 The wait is finally over, as the much anticipated Jean-Robert's Table will open in downtown Cincinnati for dinner on Tuesday, August 10 at 5:30pm.
Unanticipated construction delays, and personal reasons pushed back the original opening of Jean-Robert's Table for the famed Cincinnati chef. The new restaurant is Jean-Robert de Cavel's  first since parting ways with long-time restaurant partners Martin and Marilyn Wade which included endeavors like Pigall's, JeanRo Bistro, Lavomatic, Chalk Food + Wine, and Greenup Cafe.
Since the break up, Jean-Robert de Cavel has moved on to become the chef in residence for the Midwest Culinary Institute, while also developing the concept for the new restaurant opening on Vine Street tomorrow.
"I have watched the dining public's habits change during the last 24 months, and I have taken time to create a menu and an atmosphere that speak directly to what the dining public wants," Jean-Robert said is a prepared release. "The people of Greater Cincinnati will see this is not Pigall's and it is not JeanRo Bistro, but a hybrid of the two which will serve a broad range of items from specialty sandwiches to frog legs and escargot."
Jean-Robert also says that diners will be able to enjoy a great wine list that offers reasonably priced wines, while also featuring some of the "Fantastic Years" for those looking to enjoy boutique wines.
Inside the refurbished restaurant space that once house Buddakhan and Longhorn Steakhouse, Jean-Robert's Table will seat 115 people between the dining and bar areas. Beyond the interior modifications, the beloved French chef is excited about the restaurant's location in the heart of downtown Cincinnati.
"I chose 713 Vine Street due to its centralized location one-and-a-half blocks from city center, that makes it easy access for both lunch and dinner. The location also has excellent parking adjacent to the restaurant which makes it easier for diners to park within steps of the front door," Jean-Robert described.
So far the location and Jean-Robert combination seems to be paying off as the restaurant is already booked solid for its first night of dinner service, with an additional 120 people on a waiting list for Tuesday night's opening.  Reservations are being accepted for the rest of the week's "soft opening".  As a result, a limited number of seats will be available, and lunch service will not begin for another two weeks.
Dinner service will be offered Monday through Thursday from 5:30pm to 10:30pm (bar open until 1am), and Friday through Saturday 5:30pm to 11pm (bar open until 2am). Once lunch service begins, it will be offered Monday through Friday from 11:30am to 2pm. Reservations can be made by calling (513) 621-4777 daily between the hours of 10am and 5pm.
"My staff and I are excited and looking forward to being back on the firing line! We cannot wait to see all of our friends who have supported us so kindly during the last 18 months. Jean-Robert's Table is my attempt to support my adopted city, my adopted friends and give back in a way that I love to do, through cooking!"
The new restaurant is expected to employ around 30 full- and part-time employees.  Those interested can stay connected through the Facebook page for Jean-Robert's Table or by following the restaurant on Twitter @jrtable.