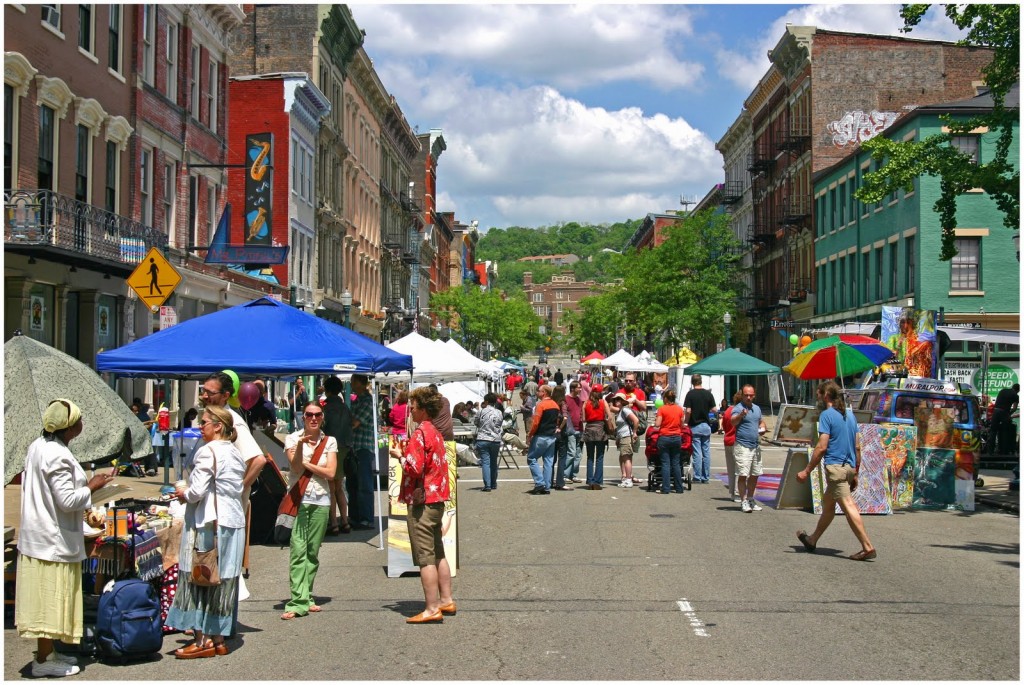 August's Second Sunday in OTR event will have more than 60 local vendors ranging from handmade jewelry to fine art and photography work. Other vendors will be selling items such as "upcycled" purses, locally designed t-shirts, wood-fired pizza, and even authentic Belgium waffles.
Second Sunday in OTR is a monthly street fair presented by the Over-the-Rhine Chamber of Commerce that takes place in the historic Over-the-Rhine neighborhood. The event closes Main Street to automobile traffic from 13th Street to Liberty Street in order to allow pedestrians to enjoy the many vendors, live music, street performers, food and beer without the worry of any automobiles.
This month's street fair will include a free yoga session hosted by You Do Yoga at 12:30pm (Main at Woodward), a Samba parade led by Baba Charles from Peasley Community Center at 1:30pm (Main from 13th to Liberty), a cooking demonstration by celebrity chefs Jose Salazar and Summer Genetti at 2:30pm (1419 Main St., Falling Wall Condo), and a local talent show at 3pm (Main at Woodward at DJ booth).
Nearby at Neon's Unplugged (map), live music will be provided by Messerly & Ewing from 12pm to 1:15pm, and KT & The Pickups from 1:30pm to 2:30pm.
The Second Sunday in OTR street fair runs from 12pm to 5pm, and is free and open to the public. Various on- and off-street automobile parking options are available nearby in addition to free bicycle parking and convenient Metro bus service (plan your trip).