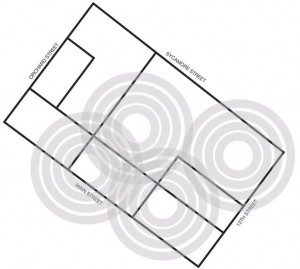 Strange sounds may be heard on Saturday when a "musical-spatial exploration" will be taking place.  The event will be centered on Main, Orchard, Sycamore, and 13th Streets in Cincinnati's historic Over-the-Rhine neighborhood.  Those interested in attending are encouraged to stand, walk, run, dance, or bike down these streets to experience the piece.
Named Aural Grid, the event is being presented by the CS13 Gallery, Project CincinnatUS, and The Marburg Collective, and the project is being partially funded by an Individual Artist Grant provided by the City of Cincinnati to Project CincinnatUS.
Project CincinnatUS states that their mission is to present "a year-long performative exploration of the ways in which Cincinnatians relate to each other, their histories, and their city."
The musical installation will take place on Saturday, August 21 from 5pm to 6pm.  A potluck cookout will be held at 212 Orchard Street following the installation, and will include a performance from the band Turmeric.  For more information on this and future Project CincinnatUS events, follow the group on Twitter @ProjectUS and become a fan on Facebook.