Cincinnati's modern streetcar project has won a $25 million federal grant through the Urban Circulator Systems program. The grant was announced by Transportation Secretary Ray LaHood and Federal Transit Administrator Peter Rogoff as they awarded $293 million in federal funding for 53 transit projects nationwide.
The $24,990,000 amount awarded to Cincinnati virtually matches the city's full $25 million request, and the $25 million maximum that could be awarded to any one project through this program. The additional money brings the total project funding to $114.5 million out of the total $128 million needed. Project officials and city leaders believe that enough money is now in place to begin initial utility relocation and construction work in fall 2010, with a potential opening of the modern streetcar system in spring 2013.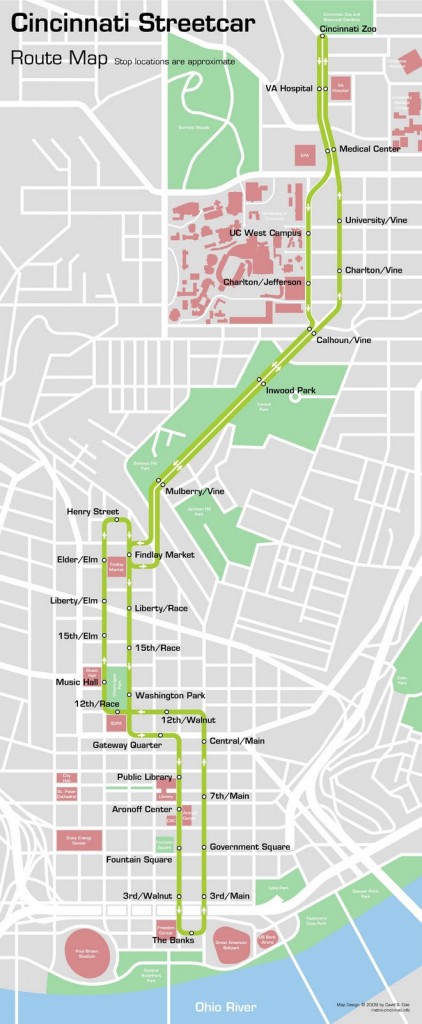 "This announcement illustrates the broad-based support for the streetcar at all levels of government," said Brad Thomas, Founder, CincyStreetcar.com. "Transportation experts at the city, regional, state and federal level have all examined the Cincinnati Streetcar and have come to the same conclusion – it is a worthwhile project that they support."
The Urban Circulator funding was awarded to bus, streetcar, and trolley projects that help improve circulation within urban environments while also improving livability in those areas. The projects were assessed on four primary elements:
Livability
Sustainability
Economic Development
Leveraging of Public & Private Investments
"Streetcars are making a comeback because cities across America are recognizing that they can restore economic development downtown – giving citizens the choice to move between home, shopping and entertainment without ever looking for a parking space," said Rogoff. "These streetcar and bus livability projects will not only create construction jobs now, they will aid our recovery by creating communities that are more prosperous and less congested."
St. Louis, Charlotte, Cincinnati, Chicago, Dallas and Ft. Worth were the six successful Urban Circulator proposals out of more than 65 applications totaling more than $1 billion in requests. Urban Circulator applications in Atlanta, Washington D.C., and Seattle were left out, and the 47 successful bus projects included in the funding were among 281 applications totaling over $2 billion in requests.
"This federal award will create jobs in Cincinnati, link our largest employment centers and improve the quality of life for Cincinnatians by reducing air pollution and providing new transportation options for Cincinnatians," Thomas emphasized. "The increased tax revenues from the business and new residents along the line will provide additional resources for our city that can be used to benefit all of Cincinnati's 52 neighborhoods."