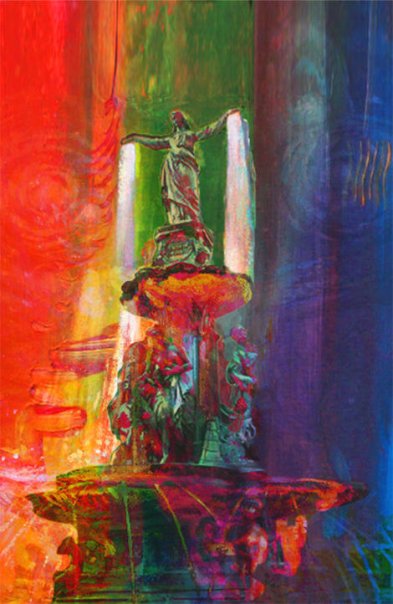 Downtown Cincinnati's tag line "Life Happens Here" has never seemed more appropriate than this coming weekend, July 2-4, when the fabulous Equinox Cincinnati: Pride 2010 parade and festival takes place on 5th Street and Fountain Square. Pride is an all-weekend, annual festivity that gives the Greater Cincinnati LGBT community and allies a chance to come together and celebrate their individuality as well as diversity in general.
This year's event is seen as a major turning point for the Cincinnati LGBT community, as Pride will once again be held downtown for the first time since 1995. For the past ten years, the parade and festival has been held in the gay-friendly neighborhood of Northside, but after the Cincinnati Gay Chamber of Commerce took over the event this past year, the powers that be decided a better fit for the parade and festival was Downtown, a place that can properly showcase the increasingly visual and centralized gay Cincinnati community.
This move is seen as a positive turn of events by many Pride supporters, including Brian Reynolds, President of Cincinnati Men's Chorus.
"Cincinnati Pride really did outgrow tiny Hoffner Park in Northside several years ago. And as much as I enjoy Northside and how much it has to offer, it just makes sense to me that Pride would move at this point from a neighborhood to someplace more central," Reynolds explained.
He also believes moving Pride downtown has bigger implications beyond solving space issues in Hoffner Park, noting "This change has the potential to make the gay community and this event more visible than it has ever been, and visibility is the key to what we all want – acceptance."
With its new location comes the new time frame of July 2nd-4th. Cincinnati Pride is typically held in the last weekend of June but was pushed back to the first week of July because most downtown hotel rooms were booked for a convention. The switch seems to have worked out for the better, as it coincides with the holiday weekend and no longer competes with other regional prides, like the hugely popular Chicago and Columbus Pride events. With the new time frame set, organizers expect the event to draw a large number of out-of-towners and help build on past successes, as last year's Pride drew upwards of 20,000 people.
Downtown leaders and businesses were quick to show support for Pride and its date change. Pride flags can be seen along 5th Street – the Pride parade route, Downtown Cincinnati Inc. has included Equinox in its marketing campaigns, and numerous billboards around town advertising the festival. With all these changes and the support of the downtown community, there is an aura of excitement and energy around this year's Pride.
As Reynolds explains, "With Pride this year falling on the Independence Day holiday, with the relocation, and with an entirely new team organizing the event — the Gay Chamber of Commerce — I have no idea what to expect. But I can't wait to experience it and hope it continues to grow after this inaugural year."
This year's Pride events are bigger and better than ever. Below is a summary of the major events that can be enjoyed by anyone. Check out the Cincinnati Equinox Pride website for additional details.
Equinox Kickoff Happy Hour – Tonic on Fourth – Friday, July 2nd, 5-7pm
Bud Light Equinox Pub Crawl – Friday, July 2nd, 9pm-3am. 3 shuttles, 15 stops, 19 bars. Various locations.
Equinox Ball – Duke Energy Center, Saturday July 3rd, 10pm-2am.
Pride Parade and Festival – 5th Street and Fountain Square, Sunday, July 4th, 11am – 9:30pm
Numerous entertainment options, including performances by Deborah Cox
P&G Fireworks on the Square – Fountain Square, Sunday, July 4th, 9pm.
Greg Meckstroth, editor for UrbanOut, holds a geography degree from the Ohio State University along with a Masters in Community Planning from the University of Cincinnati's nationally-ranked School of Planning. Greg currently works as an urban designer with an planning and design firm in Indianapolis.