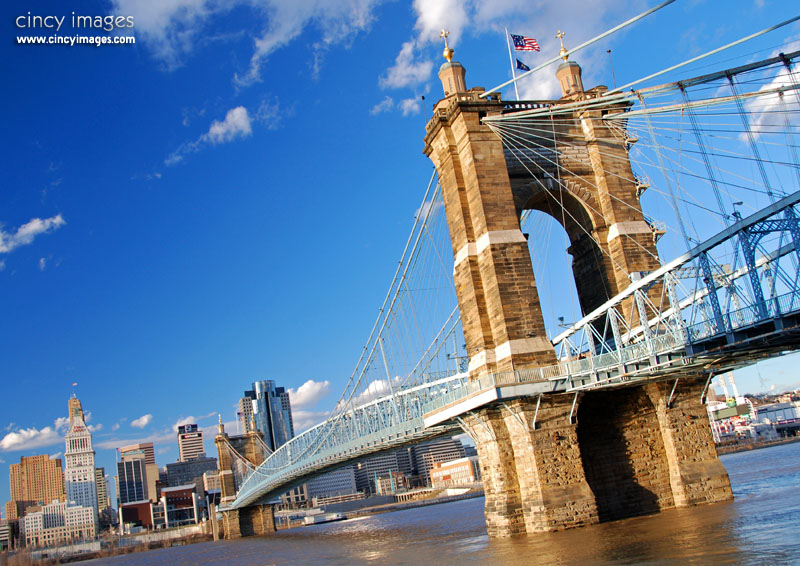 There are a plethora of activities this weekend happening along the banks of the Ohio River.  The 19th Annual Newport Italianfest starts today and Ride Cincinnati will take place this Saturday morning at Yeatman's Cove.  But one of the more interesting and fun events of the weekend promises to be Roeblingfest.
In its 6th year Roeblingfest will actually combine two separate events that have taken place in past years. Standing on its own, Roeblingfest has always been somewhat of a niche event that showcases the history of one of Cincinnati's most famous landmarks on the weekend closest to architect John A. Roebling's birthday.
Historically held on a Sunday afternoon, the event consisted of milling about the bridge for a few hours while also examining the murals that highlight the history of the bridge itself.  Small booths were also set up that each had a special focus on the historical aspect of the famed Roebling Suspension Bridge.
Last year the Roebling Point Business District held their first-ever block party, and will now align itself with the larger Roeblingfest celebrations to create a Saturday full of history and fun that should cater to all kinds of people. There will still be tours of the bridge and associated murals that run from 11am to 3pm, but this year the party will continue into the night and feature all kinds of entertainment around the neighborhood including Segway races, a cornhole tournament, and several bands offering live music. The day-long celebration will be capped off by fireworks from Rozzi's to end the evening at 11pm.
Currently, the bridge itself is closed to vehicular traffic for the next five months as it receives a new paint job and other maintenance work is completed.  Along with the ongoing maintenance work, the Covington-Cincinnati Suspension Bridge Committee is working to raise money to replace and maintain the flags and lighting on the historic river span.
The decorative lighting was turned off ahead of the closure back in the spring and there is a campaign currently underway to help raise the funds needed to update the lighting. To date, the committee has raised $185,000 of the $455,000 needed to update and maintain the lights. If the funding is raised, the new lighting will be energy efficient and will light the bridge for years to come. This weekend will go a long way to helping the cause, but donations can also be made online at any point throughout the year.  And those who decide to make an online donation also become eligible for a "Trip to the Top of the Tower" for four people.
The event is free and open to the public and could easily be paired with Italianfest, a Reds game, or Ride Cincinnati which are all only about a mile walk from the Roeblingfest celebrations on Park Place between Scott and Greenup streets, and on Court Street between 3rd and 4th streets (map).