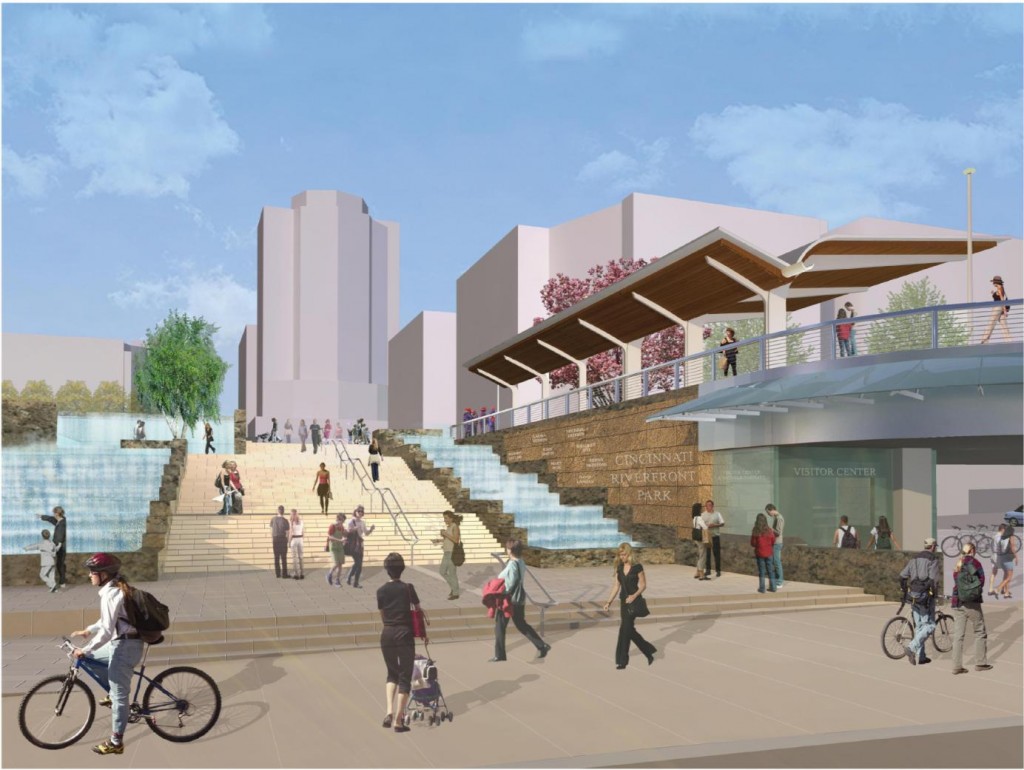 Cincinnati-based Monarch Construction Company has been awarded the first work bid by the U.S. Army Corps of Engineers for the Cincinnati Riverfront Park. The $8.5 million contract will cover the construction of the Walnut Street Fountain & Grand Staircase which will begin within the coming weeks.
Monarch was selected by the Corps for meeting their qualifications for quality, cost and time to perform the work that will include a concrete structure with sandstone cladding and granite paving; bathrooms; an elevator; mechanical, electrical, and plumbing systems; landscaping; waterproofing; interactive fountains; and associated equipment, fixtures, and furnishings.
Phase 1 of the 45-acre, $120 million Cincinnati Riverfront Park is currently on schedule for a spring 2011 opening. In addition to the Walnut Street Fountain & Grand Staircase, the first phase of the project will also include an event lawn, donor wall, promenade and the highly anticipated Bike & Mobility Center and Moerlein Lager House. This additional work is currently out for bid and is expected to be awarded in summer 2010.
In total, the Cincinnati Riverfront Park is projected to cost $2.5 million per acre which is on par, or less than, other comparable waterfront parks throughout the country. Park planners put the cost slightly higher than Cincinnati's International Friendship Park and Yeatman's Cove, but less than those found in Louisville, Charleston, Indianapolis and Chicago.