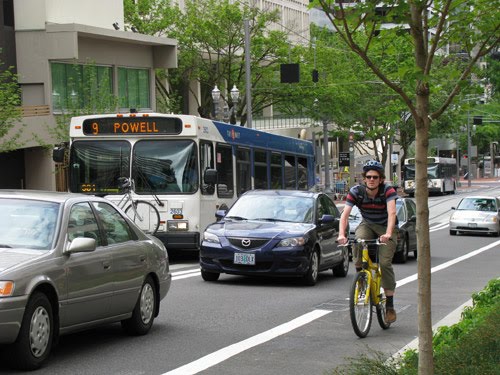 Monday marks the beginning of the League of American Bicyclists' Bike to Work Week 2010. From Monday, May 17 through Friday, May 21, Cincinnatians are encouraged to get behind their trusty two-wheelers instead of the wheel of their car. Local bike group Queen City Bike is helping to make the transition easier by setting up "commuter stations" throughout the city to reach out to bicyclists and encourage those who might otherwise be having second thoughts to get out and ride.
Riding a bike instead of driving to work next week is a great way to experience commuting via bicycle for those who may not have tried it before. Biking helps reduce carbon emissions – every mile biked is one pound of carbon saved – and is great exercise as well. Not only that, but biking is free (after the cost of the bike) and saves money on buying gas.
There is a small but strong biking community in the Cincinnati area, and veteran bikers are excited to help spread the bike love to others. Queen City Bike's commuter stations are designed to educate and inform cyclists in the region who want to learn more.
"If you are not sure you are ready to try commuting just yet, but want to learn more about where you can bike in the region, please stop by and see us at one of our Commuter Stations," said Gary Wright, President of Queen City Bike. "We will have maps that you can take with you that will help you find the best streets for riding in your neighborhood."
The stations will be set up in various parts of town and have free coffee, swag, as well as a free tune up for your bicycle if you stop by. Monday's station is located at the Hyde Park Coffee Emporium (3316 Eerie Avenue) and Elements Cycles will be around to look at bikes. Queen City Bike has posted a full list of the rest of the commuter stations to be set up around town the rest of the week.
Another perk of Bike to Work Week can be found at local green general store Park+Vine. During the month of May, shoppers who visit the store via bike can get 10% off on their food purchases, and 15% off other merchandise.
It is important that new and experience riders remember to be safe out on the roads (do not ride on the sidewalk). If you are interested in refreshing your knowledge about bicycling rules of the road, the If you are not familiar with the bike rules of the road, the Ohio Bicycle Federation has an quick and easy-to-use guide on Ohio bike law. Remember: please ride on the street. With traffic. Wearing a helmet.
Happy riding, Cincinnati!