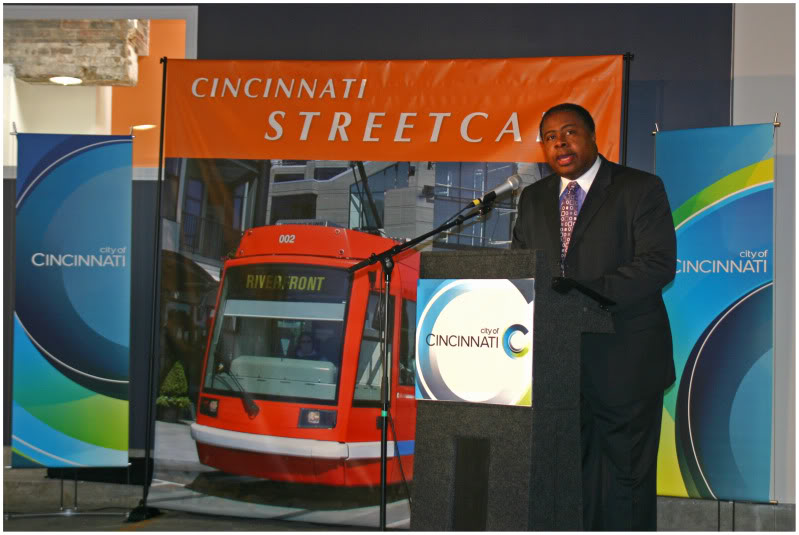 The Southwest Ohio Regional Transit Authority (SORTA) board of trustees voted today to authorize the transit authority to serve as a partner in developing an operating plan for the Cincinnati Streetcar system. The plan is to eventually have SORTA serve as the operator for the modern streetcar system operating in Cincinnati's Downtown, Over-the-Rhine and Uptown neighborhoods.
There are still several items to be worked out between SORTA and the City of Cincinnati in addition to formal approval from the City. Once an agreement is reached, the two organizations will work together to develop a comprehensive engagement program. There is the opportunity for the City to select a different operator for the system should an agreement not be reached.
Last week the Cincinnati Streetcar secured $86.5 million of the total $128 million needed to make the initial part of the Cincinnati Streetcar system reality. So far the State of Ohio has contributed $15 million, OKI Regional Council of Governments has allocated $4 million of CMAQ federal funds, the City of Cincinnati has approved $64 million in bonds, and another $3.5 million came via contributions from Duke Energy.
"With more than two-thirds of the funding for the streetcar system in place, we are in a good position to further develop the operating plan for the streetcar system's long-term sustainability," said City Manager Milton Dohoney, Jr in a press release. "We are glad to pull on SORTA's transportation expertise and resources to make that happen as quickly as possible."
SORTA officials tout several advantages to an expanded transit operation partnership between the City and the transit organization that runs the Metro bus system including coordinated planning efforts between bus and streetcar operations that will maximize efficiencies and reduce costs. SORTA officials also state that Metro's proposed Uptown transit center near the University of Cincinnati can be developed to operate as a connection poitn for the Cincinnati Streetcar, Metro bus service and the various Uptown shuttle services.
"The streetcar is a city economic development tool of regional importance, but it's also a transportation mode that must be integrated with current transit service and operated efficiently and effectively," said Melody Sawyer Richardson, chair of the SORTA board. "SORTA will bring extensive transit expertise and understanding to the project, as we work with the city and the community to develop the best possible streetcar operating plan. The City Manager has assured SORTA that his recommendations for funding will not include taking City earnings tax revenue that SORTA receives to operate Metro and Access."
SORTA is also designated as the region's federal transit funding recipient. This relationship could allow the agency to leverage federal grant dollars for the Cincinnati Streetcar project and even serve as a conduit for those funds.
In March, SORTA's newest, and youngest-ever, board member spoke to the potential benefits of larger, more comprehensive transportation system overseen by one transit authority.
"Our area is overdue for new transportation alternatives, and I plan to work very hard to help create solutions to transportation issues that fit realistically within the available resource base," said J. Thomas Hodges. "A comprehensive multi-modal transportation system is vital for the health and success of our City and region."