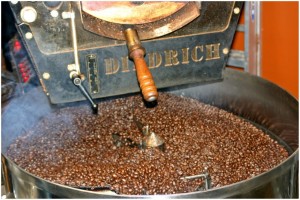 Cincinnati is blessed with a large number of terrific local coffee shops, and those interested will be able to partake in a coffee tasting and sampling event on Fountain Square Wednesday, May 19 from 6am to 10am.
Vendors at the coffee tasting will include Baba Budan's, Awakenings Coffee & Tea Co., Greenup Cafe, Kidd Coffee, Starbucks, Coffee Break Roasting Co., and Murray Coffee LLC.
Coffee tasters are welcome to sit down and enjoy their coffee on Fountain Square with KISS 107 FM's morning show, or they can take their coffee to-go as they make their way to work. Staff from the local coffee shops will be on-hand to share their knowledge and love of coffee. According to event organizers, there will also be tea selections to sample for those not interested in coffee. There will also be pastries, coffee cakes, donuts and bagels available for purchase.
The Rippe & Kingston Coffee Tasting on Fountain Square (map) is free and open to the public, but samples will cost between 25 and 50 cents. Regular sizes will also be available at the selected vendor's normal price.