That is roughly the valuation of current and proposed construction projects in Cincinnati's urban core (Downtown, OTR, parts of Nky's riverfront, Mt. Adams, parts of Uptown). The area is roughly 6 square miles that includes hilly terrain, a mighty river and is the heart of a 2+ million person metropolitan area. That averages out to roughly $574-million worth of investment per square mile.
Projects highlighting this list are The Banks, Cincinnati Riverfront Park, Queen City Square, SouthShore, Ovation, and the Cincinnati Streetcar. In addition to those big projects, the list is filled out by a potpourri of rehab and infill projects that would tickle the fancy of any urbanite.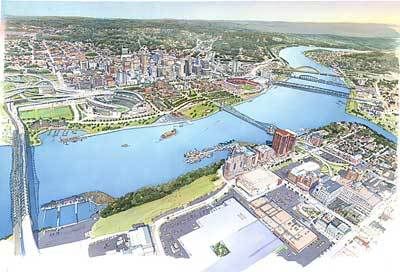 While you simply can not project development valuations as a signal of a city's success or failure, it is hard not to be impressed by the shear amount of activity going on now and in the coming months/years. It is not often that a Midwestern city sees this kind of activity, and it isn't something Cincinnati has seen happen in many decades.
+++ SEE FULL LIST HERE +++
*Note that this list does not include projects going on in the East End, West End, Dayton, or Bellevue.