Metro and CincyYP are once again teaming up to encourage young people in Cincinnati to try out the city's bus service beyond typical commuting uses. This is the third year of this successful  program.
Last year's entertainment bus event saw more than 400 passenger trips taken. Participants will once again have the opportunity to learn tips to plan their trip including how to read a schedule, catch a bus and use Metro's real-time apps. There will be special promotions at popular establishments along the event route in downtown, OTR, Oakley, Hyde Park, O'Bryonville, Clifton and East Walnut Hills.
"Cincinnati's YP leaders truly get how important public transit is to our community, and their commitment to encouraging their peers to use Metro is inspiring,"Metro's Outreach and Sustainability Manager Kim Lahman stated in a prepared release, "The 'Late Night Test Ride' provides us with a safe, fun and adventurous way of introducing young professionals to Metro's service, while allowing them to get to know our community and one another better."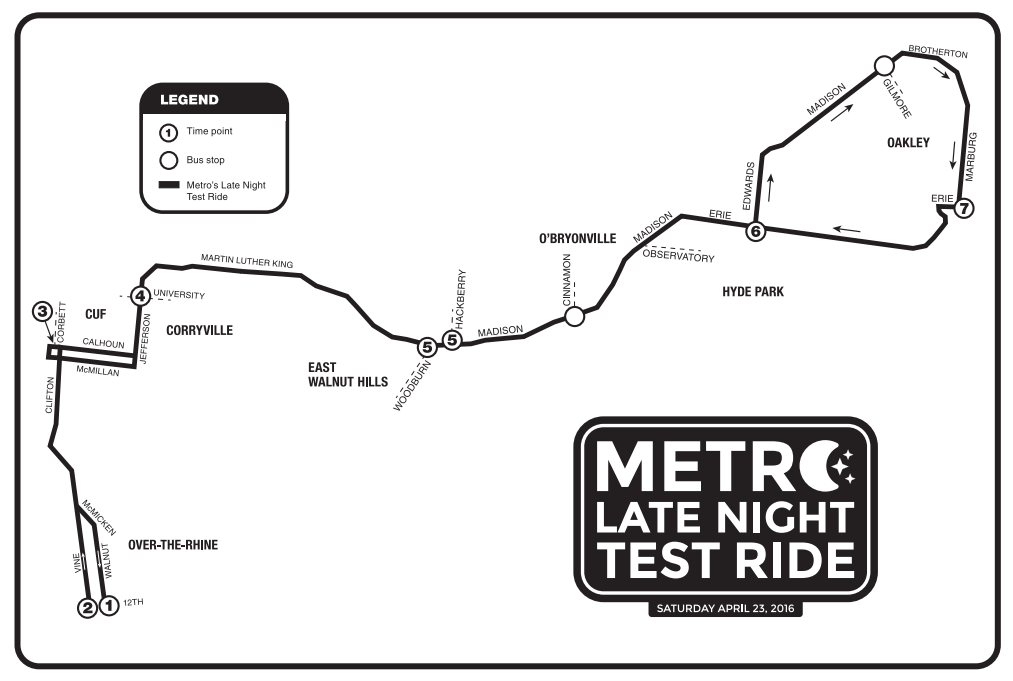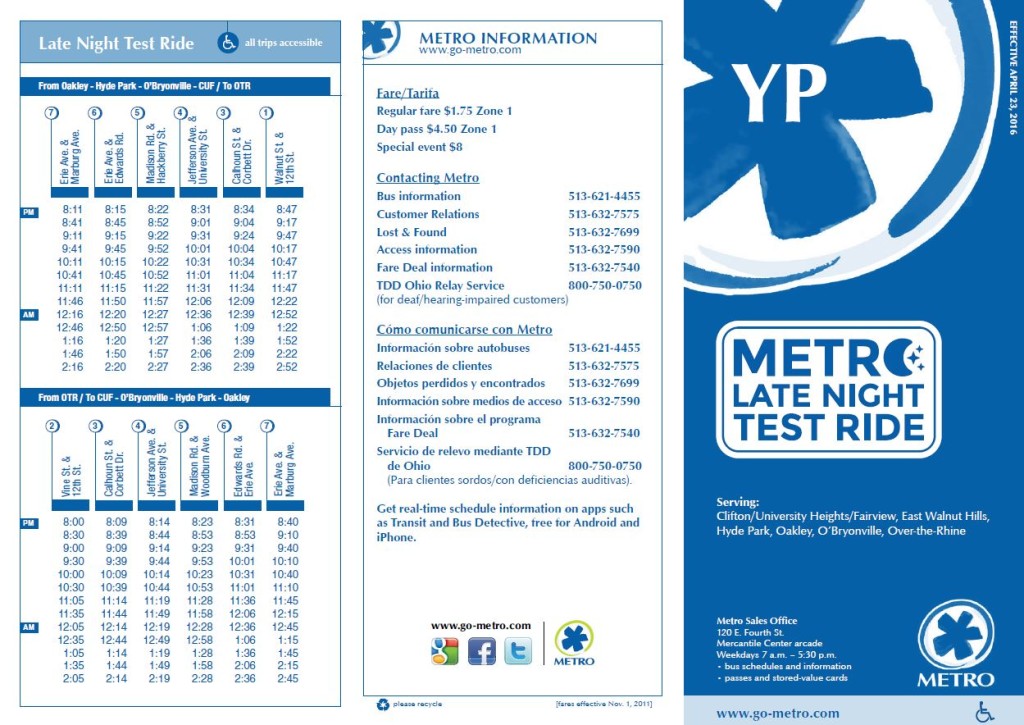 The mobile event will take place this Saturday, April 23 between 8Pm-2AM. Three buses will operate on 30 minute intervals on a route that will take riders around to some 18 bars in seven different neighborhoods.
Many people view transit as a means to get to and from work, but the reality is that nearly three-fourths of all trips made each day have nothing to do with work commutes. As Metro works to grow ridership and expand its customer base, choice riders – those who choose to take transit instead of other alternatives – are becoming an increasingly targeted demographic. Additionally, as the Late Night Test rides are proving, there is a solid demand for late night routes that could be instituted on a more permanent basis.
Unlimited trip passes for the late night shuttle can be purchased online for $8 per person, or $25 for groups of four. The public can also simply purchase single trips at Metro's normal $1.75 fare anywhere along the route. Those who may not have the cash, or just want to get a bit more involved, are being encouraged to volunteer for two hours and receive a complimentary pass in return.
As Lahman suggests, the hope is to get young people more familiar with using the city's bus service, and will learn tips about how to plan their trip, read a schedule, catch a bus and use Metro's real-time arrival services.