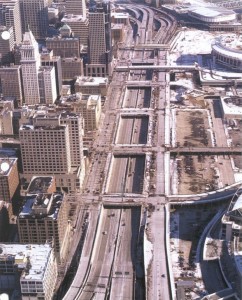 On the 40th episode of The UrbanCincy Podcast, we are joined by John Schneider. Although he is now widely known for his involvement in rail transit projects, Schneider was also one of the fathers of the massive Fort Washington Way rebuild that began in 1998.
Long-time UrbanCincy readers may remember David Ben's four-part series on Fort Washington Way, covering the many forward-thinking decisions made by project planners. A few of these include shrinking the highway's width, building the Riverfront Transit Center, building new water, sewer, and fiber optic infrastructure, and adding support for "caps" which may be added in the future.
We discuss some alternative plans that were considered, such as rerouting I-71; the limitations that were placed on the project, including the need to reuse the existing Lytle Tunnel tubes; and how the stadiums, the Underground Railroad Freedom Center, and The Banks came into the picture. Finally, we speculate on the future usage of the Riverfront Transit Center, the future of USBank Arena, and when/if the highway will ever be capped.