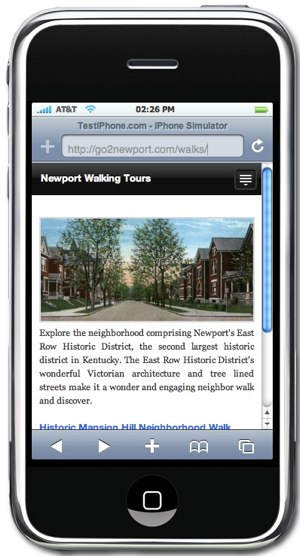 When city officials examined how to update Newport's East Row Historic District tour they decided they wanted to do so in a way that was up to the standards of the 21st Century. As a result, Newport's Historic Preservation Specialist Emily Jarzen and Main Street Coordinator Robert Yoder developed the walking tour to be compatible with smartphones and their users.
"A couple of years ago, smartphones with web browsers were a novelty," Yoder said in a press release. "Now with prices continually dropping and more choices entering the marketplace we felt delivering the walking tours formatted for smartphones would an innovative and cost effective way to bring Newport's rich architectural history for a broader audience."
Once a popular area for wealthy business owners and merchants in the late 1800s, Newport's historic East Row district boasts proud architectural examples of Italianate, American Four Square, and Queen Anne. Over time the neighborhood suffered from deterioration and neglect until restoration began in the 1980s creating the vibrant historic district known today.
The neighborhood has nearly 1,100 homes, all of which are listed on the prestigious National Register of Historic Place, and is Kentucky's second largest historic district.
"Having the walking tours available on the web allows us to provide a richer experience and the ability to develop more walking tours of Newport in the future without needing to print a new brochure for every tour," Jarzen explained.
Those interested in exploring Newport's historic East Row district can do so by pointing their smartphone browser to www.eastrow.org/walks/.