Space, the final frontier… This famous phrase immediately evokes thoughts of stars and interplanetary travel, but there is a more common type of space that we navigate every day. That space, or the creative utilization of space in the built environment is the highlight of a new gallery exhibit at GBBN Architects' EDGE Gallery this Friday.
The exhibit titled, "'C'mon Space! Whatcha Gonna Do For Me?" features the work of GBBN in researching common space through pop-up public space interventions. The exhibition will include a collection of diagrams, video, imagery, digital and physical models that summarize the findings of the research; a chronicle of the journey of our research project; and present the successes and failures of typical common space.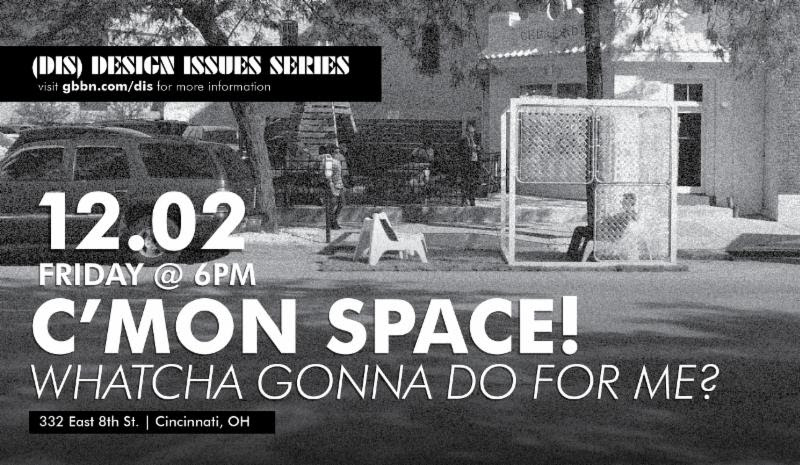 The idea to focus on how people interact with spaces is the evolution of a project that began in September 2016 with GBBN's annual participation in PARK(ing) Day. PARK(ing) Day is an international event where individuals and groups take over public parallel parking spaces for a day and transform them into miniature parks called "parklets." UrbanCincy has covered this event over the years.
Initially PARK(ing) Day was used as a vehicle to perform initial research on how people use and respond to pop-up lounge seating. After this years' event, the firm continued the research by creating a series of pop-up interventions that presented other seating options and interactive exhibits and observed how people interacted to the options.
The EDGE gallery is a place to share GBBN's research and participate in local design dialogue. The gallery name was inspired from the meaning of an 'edge condition,' which occurs where two or more distinct realms overlap and interface to create a unique situation. Conditions such as these allow for fertile and creative thought, and elicit unique challenges and opportunities to create lively discussions.
The exhibition will be held at the EDGE Gallery located at 332 East 8th Street in the 8th Street Design District from 6pm-9pm on Friday December 2. A Cincy RedBike station is conveniently located across the street. The gallery is also located along the #11, #16, and #64 Metro Bus routes and is two blocks from the 8th and Main Cincinnati Bell Connector stop.