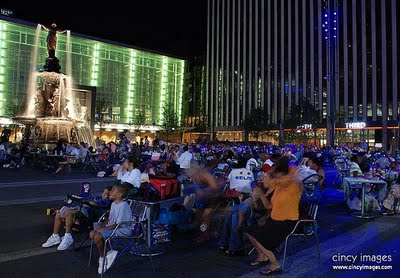 It was exactly one year ago today that I published my first UrbanCincy post. It was a riveting piece to be sure, about the Cincy Beer Fest that was being held in <gasp!> Covington, KY. I had long been a resident of the Cincinnati area, always to the north of the river, but a move about two years prior into the Covington portion of our urban core had really helped me start to see our area in a different light. So the fact that my first UrbanCincy post captured what some considered to be a poorly named festival actually made total sense to me. It was a uniquely Cincinnati event that happened to stretch a few blocks south of the Ohio River, just as I had myself.
After spending many years on the sidelines and being a mostly passive member of the community, getting started helping with UrbanCincy gave me a chance to explore the world around me in a new and unique way. Having a part in the story telling of the rebirth of Cincinnati is not only something I take great pride in, it is something that has exponentially increased my passion for the Queen City. In these parts, depending on who you listen to, or who you read, it is easy to get bogged down in a lot of negativity about our fair city. I believe though, that the reality of the situation is quite different, and I am not alone. In fact, there is a growing group of energetic people involved in making Cincinnati a great place to live, work and play and UrbanCincy put me on the path to finding them.
As UrbanCincy has helped rekindle my passion about Cincinnati, it has also helped me become more involved with the community. As you know we are in favor of rail transit as urban development, so I spent time volunteering with Cincinnatians for Progress. We are passionate about activity in the urban core, so I played in the Fountain Square Broomball League. We are of course focused on doing everything we can to make the Cincinnati Streetcar a reality, so I went down to City Council and spoke my piece about the $64M bond issue to help fund it.
The beauty of all this is that I learned that Cincinnati is a place where anyone can make a difference and that is truly the most eye opening part of the past year. Try going to a bigger city, say Chicago, and helping shape the future of the city. That is quite a large city to have your voice heard and impact change, good luck. You could head to a smaller town where it may be easier to make a difference, but you will not find near the amount of activity and development like you see in Cincinnati. To me, and to many, we are at the right time and the right place in Cincinnati to step up and really impact the future.
The urban core of Cincinnati has an incredible amount of momentum right now: Cincinnati Streetcar is on the way; The Banks and Central Riverfront Park are taking shape; 21c Hotel is coming; people are choosing to live, work, and play downtown. However, it is not only the changing environment around us that will attract and retain talent; it is this chance to get involved as well. The chance to make a difference and have an impact is not something that is easily seen or easily measured, but it is what will keep our momentum sustainable for years to come.
While UrbanCincy has helped me find my way and my voice and increase my engagement as it relates to the future of Cincinnati, it is definitely not the only way to get involved. I encourage you to take a look around, and if you aren't already, start to view this city as a place with a bright future. There are too many good things happening for there not to be a substantial positive change in our city. I ask you to think about what inspires you, and reflect on it. I recommend you go out and find a way to make Cincinnati a better place to live. You will not regret it, I know I haven't.