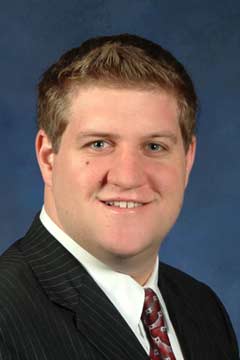 Two area transit professionals, Colin Groth and Ben Capelle, were named to Mass Transit Magazine's 40 Under 40 list. The list recognizes industry professionals who have made "significant contributions" to the public transit industry.
According to magazine editors, those honored were nominated by their peers and then judged on their job commitment, industry involvement and contribution, professional achievement, and innovation in their particular field.
Colin Groth, Government Relations Director for Metro, was honored for his work with local, state, and federal officials since 2005. The publication notes that most recently Groth has been instrumental in securing more than $17 million in American Recovery & Reinvestment Act (ARRA) funding for the transit agency. Groth was also named to the Business Courier's 2009 Forty Under 40 class, selected to participate in the Cincinnati USA Regional Chamber's 2010 C-Change program, and is currently active in eight different Cincinnati organizations outside of Metro.
"He represents the kind of dynamic, engaged and forward-thinking individuals that will help solidify public transit's role in our nation's future," said Mass Transit Magazine editor Fred Jandt.
Ben Capelle, director of Clermont Transportation Connection (CTC), was also honored for his achievements. In particular, Mass Transit Magazine recognized Capelle's leadership that has grown transit agency on a shoestring budget during his tenure.
"Capelle has helped grow the system from 15 employees to 32 and from providing 35,000 trips annually with a budget of $1.1 million to providing 95,000 trips annually with an increased budget of $3 million. CTC will also begin construction of a new operations center in 2013," Jandt stated.
Combined, Metro and CTC provide roughly 19.1 million trips annually throughout the Cincinnati region.