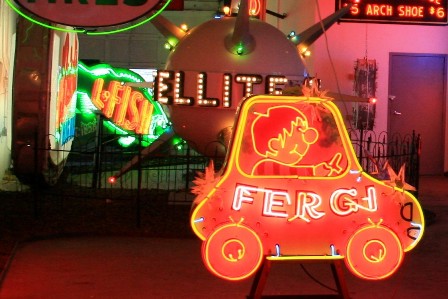 The American Sign Museum will host an open house this Friday and Saturday from 7pm to 10pm each night. The open house is scheduled to take place during the Essex Studios Art Walk, and will showcase over 100 lit neon signs that will match over 100 participating artists.
The Walnut Hills museum first opened in 2005 and is the only public sign museum in the country. The museum's director and founder, Tod Swormstedt, hopes to eventually move into a larger Camp Washington space that would serve as a spark towards making Cincinnati a national center for research and sign information.
"The history of signs is a micro-history of design trends and technology in the U.S., and I want to capitalize on that right here in Cincinnati," Swormstedt told UrbanCincy in August 2010.
The open house is a unique opportunity for visitors to check out the museum's collection which is typically only open to the public on Saturdays from 10am to 4pm, with all other times requiring appointments to be made in advance.
Swormstedt says that visitors will be treated to light refreshments, a coffee bar, and receive two-for-one admission coupons for Saturday guided tours to be held at 10am, 12pm, and 2pm. Those who show up will also be entered into a raffle to win The New Let There Be Neon book, with winners to be announced later that evening.
The American Sign Museum is located at 2515 Essex Place. For more information please call (513) 258-4020 or email Tod@SignMuseum.org.