After breaking ground on a 28,000-square-foot facility in May 2010, the new Graeter's Ice Cream production facility is complete and poised to set-up the legendary ice cream maker for an aggressive national expansion plan.
Cincinnati leaders are scheduled to dedicate the new facility in Bond Hill, located at 66th Street and Paddock Road, at 10am today. As part of the ceremonies, 66th Street will be renamed to Regina Graeter Way in honor of the current owners' great-grandmother who helped establish the Graeter's brand as a local favorite.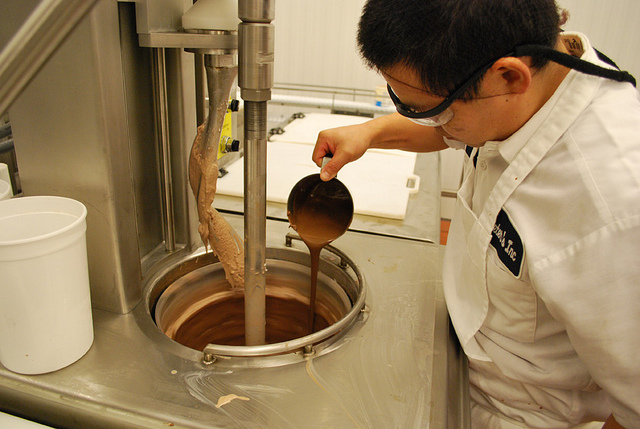 City officials say that the $11 million project was made possible by $3.3 million incentive package from the City of Cincinnati, and will create 50 jobs – a number that is expected to grow in the coming years as Graeter's grows its production. The incentive package also included a commitment from Graeter's to "stay and grow" in Cincinnati for at least 20 years.
The ice cream maker will maintain its current facility in Mt. Auburn for production of some ice cream, candy, and baked goods. The new facility, meanwhile, will be used solely for the production of ice cream.
"As a Cincinnati-based, family-run company, we are proud of our association with this wonderful city and look forward to new generations of success," said Richard Graeter, president and CEO of Graeter's. "We are incredibly grateful [of the City's assistance], because not only will their support help us expand nationally, but it is also helping us create jobs locally."
The new Graeter's facility sits on roughly 4.5 acres of land, and is the first development to take place on the 24.5-acre site owned by the City of Cincinnati which previously was home to the Mill Creek Psychiatric Center.  Officials with the city's Economic Development Department hope to build out the rest of the site in accordance to the Growth & Opportunities Study for Cincinnati (GO Cincinnati) which calls for research and development, flex-industrial, and back-office space to be built in the Seymour/Reading Road Corridor.
"Graeter's growth is contributing to the growth-mode that the City of Cincinnati is experiencing these days," City Manager Milton Dohoney stated in a prepared release. "And as they take their brand to new national markets, they are a great ambassador for the city."