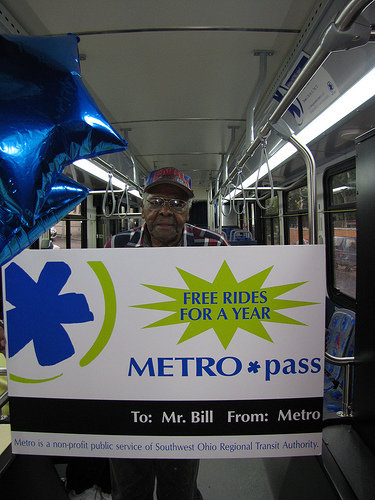 Metro officials have announced the winners of their Tell Your Story contest that asked Metro riders to share their stories about how transit benefits their lives and their community in terms of jobs, the environment, energy independence, and overall quality of life. The transit agency narrowed down the many entries to five finalists for the written and video entries, then opened the contest to public voting which determined the winners of each category.
After hundreds of votes were cast, Teresa Roush of Wilmington and Travis Theiss of Hamilton respectively won the written and video contests. According to Metro officials, both individuals won a year of free rides on Metro and will be featured in the transit agency's advertising this fall.
Roush's written entry described her five-day-a-week commute on the 71X from Kings Island to downtown Cincinnati and back. In her story Roush highlighted how she is able to use her time effectively by knitting afghans that she donates to a children's charity in Clinton County.
Meanwhile, in Theiss' video entry filmed at the Taste of Cincinnati he described how he uses Metro as an opportunity to catch up on sleep, and he explained how his Metro bus route provides him with easy access to work while also providing a time to take a nap.
"I just gave it a shot and thought it would hopefully entertain people, and I was glad I could share my feelings that Metro is a great option for transportation," said Theiss of his video entry.
Metro also awarded 96-year-old William Kenny a year of free rides on Metro for his written story on August 21. In his entry Kenny described how he uses Metro to get to and from the Over-the-Rhine soup kitchen where he volunteers five days a week. It is also believed that Kenny is Metro's oldest regular rider.