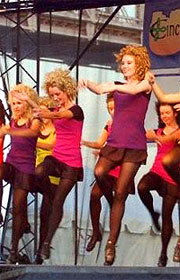 Cincinnati's annual Celtic Festival is returning this year after high costs and low sponsorships kept the festival from happening in 2009 after close to 20 years of operations. During that time festival organizers have worked hard to right-size the event and make it more approachable by moving it to Fountain Square and keeping admission free.
"We were looking for another way to do this after moving the event to Sawyer Point where we had grand plans to try to rival the Dublin Irish Festival and really take advantage of that magnificent venue," explained Patrick Lindsay, Chairman, Friendly Sons of St. Patrick Foundation. "We had a great event in 2007, but 2008 had terrible weather as a result of the odd hurricane that came through."
Lindsay says that they looked at a variety of new venues that would allow for a more flexible festival, but that they decided to go with Fountain Square after reaching an agreement with 3CDC and the Fountain Square Management Group. The new agreements, Lindsay says, will give the festival the ability to expand on to 5th Street if the demand is there while also tapping into the built-in infrastructure for events on the public square.
"This agreement is bringing the festival back and putting it right were we wanted it all along in the center of the city," Lindsay exclaimed. "We are adamant about making this a first-class event with top-notch entertainment, and this venue will allow us to do just that."
Aside from the new location, the 2010 Cincinnati Celtic Festival will also be held in October instead of March. Lindsay explained that the spring time festival was difficult to manage with the weather in Cincinnati at that time. Additionally, they see the early October time as fitting in nicely with other festivals taking place around Cincinnati at that time.
"It's going to be so much fun to have the festival again, and have three weekends of Oktoberfest and Celtic festivals during Irish sweater weather. To be able to bring the crowd downtown and tie in with the ever-growing residential community and businesses there will be great."
As the festival moves forward the Friendly Sons of St. Patrick are looking to establish a good track record again and growing the festival in both its reach and authenticity. Lindsay says that may mean the festival stays at Fountain Square, or that other venues like the redeveloped Washington Park may be considered. The goal, he says, is to be able to provide authentic live music, food and more while also staying true to the foundation's mission of promoting Irish heritage and culture in the community, feeding the hungry, and promoting educational opportunities between American and Ireland.
"There is a big Irish community in the Cincinnati region. The Scottish, Welsh, and British Isles all have great representations here…we're just looking forward to celebrating those cultures and bringing back this festival experience to Cincinnati."
The 2010 Cincinnati Celtic Festival will take place on Saturday, October 2 and Sunday, October 3 on Fountain Square (map). The event will be free event will include Celtic music, dancing, merchandise, contests, food and drink, and more.  Free bicycle parking is available outside on Fountain Square, inside the Fountain Square parking garage, and on surrounding streets.  The event is also served by every Metro bus route terminating at Government Square (plan your trip).