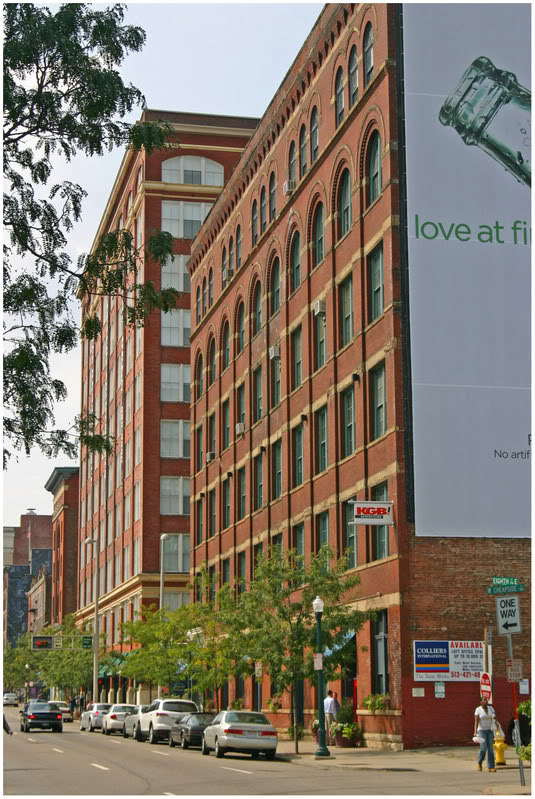 It has long been a work in progress, but the 8th Street corridor through northeast downtown Cincinnati has evolved into a vibrant district. A district made up of trendy loft living inside former warehouses; diverse establishments like the Blue Wisp Jazz Club, Silverglades, and University Galleries; and an ever-growing collection of design-related businesses.
The progression has been steady and thorough over the past two decades when much of the district was vacant or rundown. But now, a large group of businesses in the district, the City of Cincinnati, and Downtown Cincinnati Inc. have officially formed the 8th Street Design District.
"We began looking around and realized that this area is rich with people and businesses who are passionate about their creative product, whether it's package design, architecture, music or other related support services," explained Ken Neiheisel, Chief Creative Officer of Marsh, Inc. and spokesperson for the 8th St. Design District.
Design firms include GBBN Architects, Marsh, KZF Design, Glaserworks, KGB Advertising, and Brandstetter Carroll along with 12 other entities that help make up the district. According to Neiheisel, the firms intend to come together with the goal of creating an inspiring, vibrant area that will aid in increasing the value of their work to the city while also attracting new talent. He also hopes that district branding will help attract other similar companies to the 8th Street Design District.
"There is strength in numbers and we felt that as a group, we could have an impact not only on each other, but on the creative class and economic development in Downtown Cincinnati."
In order to celebrate the formation of the new 8th Street Design District, and bring the downtown community together, the group has organized a month-long music mini-series on Friday, September 10, 17, and 24. The concerts will take place from 12pm to 1:30pm at the corner of 8th and Broadway. The Faux Frenchmen are scheduled to perform first, with Mix Machine and Rattlesnakin' Daddies to follow. Those who would like to help the newly formed group, or get more information about the September music mini-series, are instructed to contact Ken Neiheisel at (513) 386-6101.