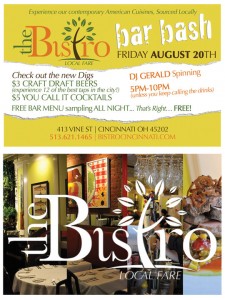 On the evening of Friday, August 20, Cincinnatians will have an opportunity to be re-introduced to a local restaurant now known as The Bistro.  The restaurant owners plan to host a party to show off the recent changes that took place following the well-publicized split of Jean-Robert de Cavel from the Relish Group.
With native chef Chris Burns at the helm, owners at The Bistro say that the restaurant will focus on bringing local fare to the dinner table by using ingredients that are locally sourced.  This new focus is complimented by the interior décor which has also been updated with a fresh look.
The owners say that this Friday's event is not really about the food as much as it is about the space. With The Bistro Bar Bash starting at 5pm and going until close, it is an opportunity for folks to see what the changes are about, enjoy some drink specials, and try out some of the food for free.
The Bistro has always featured a small but tremendous selection of microbrews, and that has not changed with the renovations.  This Friday night, twelve craft beers will be available all night long for $3 each.  There will also be $5 "You Call It" cocktails, as well as food from the bar menu offered up for free the entire evening.  Finally, The Bistro will be hosting DJ Gerald to spin some music and liven up the atmosphere for the evening.
Add in the weekly PNC MidPoint Indie Music Series on Fountain Square for a complete night of affordable entertainment in downtown Cincinnati. As with each and every other Friday night during the summer there will be four bands that take the stage starting at 7pm. This week's headliner is local favorite Bad Veins who will be spending the fall on a national tour opening for Frightened Rabbit and Two Door Cinema Club.
Located only a half-block from Fountain Square at 413 Vine Street, The Bistro is easily accessible for many in the city. If arriving by car, there is easy parking either in the Fountain Square Garage or directly across the street at the Westin Garage.  Free bicycle parking is readily available nearby, and you can easily access both events with Metro bus service (plan your trip).