Cincinnati was on the outside looking in when U.S. Transportation Secretary Ray LaHood announced eight projects and six initiatives nationwide selected to be a part of the new Marine Highway Program. The projects and initiatives selected to be a part of the program will be eligible for federal assistance, including an initial $7 million in funding, to help move more cargo on the nation's waterways rather than on crowded highways.
The Department's Maritime Administration (MARAD) stated that the eight projects and six initiatives were chosen out of 35 applications submitted by ports and local transportation agencies. Nationwide, MARAD has selected eleven marine corridors for which to focus. Locally, the designated M-70 Corridor includes the Ohio, Mississippi, and Missouri Rivers.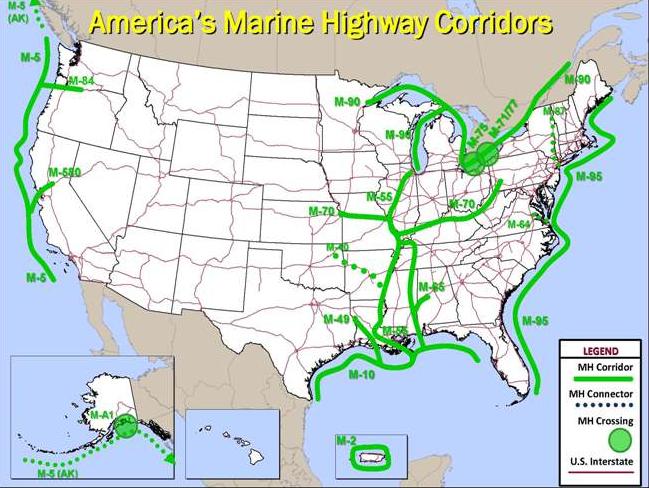 According to MARAD, the M-70 Corridor contains major freight truck bottlenecks at numerous points that could be alleviated by marine highway cargo transportation.  The administration also states that the region is expected to experience a growth in long-haul truck volumes through 2035 that will exacerbate already congested highways and rail networks.
"Making better use of our rivers and coastal routes offers an intelligent way to relieve some of the biggest challenges we face in transportation – congestion on our roads, climate change, fossil fuel energy use and soaring road maintenance costs," Secretary LaHood said in a prepared release. "There is no better time for us to improve the use of our rivers and coasts for transportation."
The majority of projects and initiatives selected were those along coastal marine highway corridors. Officials at the Office of Marine Highways and Passenger Services declined to share the full list of applicants with UrbanCincy, but a local river port facility located just west of downtown Cincinnati may have been one of those left off the list.
"There are many places in our country where expanded use of marine transportation just makes sense," said David Matsuda, Acting Administrator of the Maritime Administration. "It has so much potential to help our nation in many ways: reduced gridlock and greenhouse gases and more jobs for skilled mariners and shipbuilders."
The proposed Queensgate Terminals rail-barge transfer facility has long been the subject of controversy, public debate, and opportunity. While legal and political battles took place, over the last five years, Ohio officials pledged $9.5 million to the proposed South Point barge terminal further upriver in Lawrence County. At the same time, the OKI Regional Council of Governments has been studying ways in which to reduce freight congestion on the region's highways and freight rail yards.
The proposed Ohio River facilities are becoming increasingly important as the Panama Canal nears completion on a $5 billion expansion that is expected to dramatically global freight traffic in the eastern United States. According to David Martin, developer of Queensgate Terminals, the Panama Canal expansion will make "back-haul" operations to China even more attractive as shippers look to move goods on otherwise empty cargo containers heading back to east Asia.