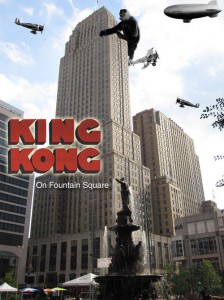 "Watch This" is a plan to watch all of the American Film Institute's top 100 films in one year.  Creators Alex Shebar and Allison Johnson are now more than half-way through their mission.  After putting on screenings in venues ranging from the 20th Century Theatre in Oakley to individuals' homes, they are ready to take over Fountain Square for their biggest event yet.
On Saturday, July 31 at 8:30pm, Watch This will be showing the original 1933 version of King Kong on Fountain Square's video board located atop Macy's.  The event is free, and it is recommended you bring a blanket or lawn chair to sit on.  The screening is coincides with Fountain Square's weekly movie night that regularly draws large crowds to Cincinnati's central plaza.  For some additional entertainment, come early and watch Over the Hedge, which will be playing at 7pm.
Adult beverages, soft drinks, Skyline cheese coneys, soft pretzels, nachos, candy bars, and kettle corn will be available for purchase.  You can RSVP for the event on Facebook, and follow the Watch This blog for a complete listing of screenings, and follow the #watchthis tag on Twitter for additional updates.