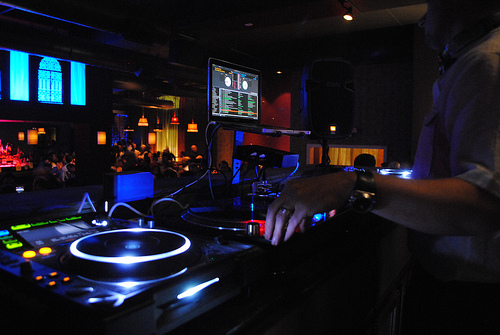 Cincinnati's newest nightclub is celebrating a grand opening tonight, Saturday July 17 at the corner of 6th and Main streets.  Passage Lounge serves as the eastern anchor to downtown Cincinnati's growing Backstage Entertainment District.
General Manager Robert Bond states that, "Our number one commitment is to be a service-based venue and we have trained our staff to provide our downtown Cincinnati community patrons with a full, pleasurable and exciting experience."
At first observation, Passage is definitely a place to see and be seen. The majority of the space is an open plan, with a circular bar serving 360 degrees of drinks anchoring the center of the space. There is a DJ booth and elevated dance stage that can be seen from the street. True to its name, Passage's decor is mysterious and exotic, with VIP areas accessible only through a secret passage way. Even the restrooms have a trompe l'oeil feel that fools the eye.
Go check out Passage Lounge (map) if you are looking for a new place to enjoy yourself and dance the night away in a classy, fun atmosphere.  The doors will open at 7pm tonight with the party going until 2:30am at which point several late night food options are located nearby for snacking and socializing.
Passage is open Wednesday through Friday from 4pm to 2:30am and Saturdays from 7pm to 2:30am.  They will feature weekday happy hours with drink specials, live entertainment, and a tapas menu which will begin on Wednesday, July 21.  Passage has table reservations available. Those interested in reserving tables or the VIP room should contact Ramsey Houston, at (513) 720-9946 or vip@passagelounge.com.