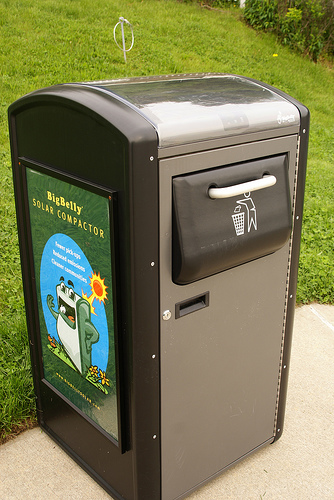 The Cincinnati Park Board has installed an additional 20 BigBelly solar-powered trash compactor units throughout Cincinnati's center city. The new BigBelly units were made possible through an $88,000 grant from the Eva Jane Romaine Coombe Fund of the Greater Cincinnati Foundation.  The Park Board states that the fund honors Mrs. Coombe's interest in green stewardship.
The BigBelly solar-powered trash compactor units grow and update the Park Board's existing ten unit collection. In addition to compacting trash, higher capacities, less needed maintenance, and being powered by the sun, the newest BigBelly units utilize a web-based mapping system designed by students at the University of Cincinnati that notifies park managers when individual units are filled and are ready for collection.
This next evolution of waste collection is seen as a way for municipalities save money on fuel and labor costs.  The smart trash cans enable staff to be deployed more effectively without wasting time or resources on trips to units that are not in need of collection.
In Boston the city has been aggressively expanding its use of the smart trash cans, and its efforts have been joined by those of the Boston Red Sox and Boston University who have also begun using the BigBelly units.
"The public response has been nothing but positive, and we have realized the desired benefits for the city – it will save the city time and money, keep litter from overflowing, and discourage illegal dumping of trash," said Boston Mayor Thomas Menino. "This will save us a lot of time when guys are filling potholes, fixing sidewalks and doing other things."
In Philadelphia, after the city replaced 700 standard trash cans with 500 BigBelly units, the city estimated a savings of $13 million over a ten year period – or approximately $2,600 per unit.
The 20 new units in Cincinnati have been placed in Lytle Park and Piatt Park in Downtown and Eden Park in Mt. Adams. The ten older units will be used at the Park Nature Centers for "demonstration of environmentally sound maintenance practices."