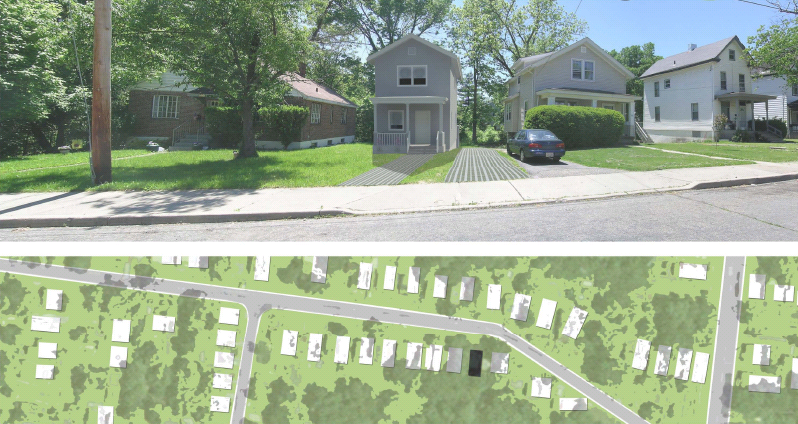 Cincinnati Habitat for Humanity (CHFH) began construction on two homes in College Hill over the weekend. The home located at 1141 Homeside Avenue (map) is Cincinnati Habitat's first 'green' home. The house was designed by The American Institute of Architects Committee on the Environment (AIA COTE).
The design, for the home, won an architecture competition held last year with Cincinnati Habitat for Humanity, AIA COTE, and other Ohio Habitat affiliates. Entries were judged on cost, ability to build, and neighborhood context, in addition to integration of environmental strategies including impact on the site, water efficiency, energy use, material use and indoor environmental quality. The first place winners of each category are being built throughout the 2010 build season in Cincinnati, Cleveland and Newark, Ohio, and the designs will be made available to all 70 Habitat affiliates throughout the state.
An anonymous donor will sponsor this Cincinnati Habitat build, but most importantly, this new green Habitat home illustrates that entry-level home builders of any income can explore and implement green techniques without breaking the bank.
The home site in College Hill is characteristic of dense pre-war suburbs that are typically found in older American cities. These neighborhoods are often served more efficiently by public transportation, thus reducing auto dependency and factoring into the National Association of Homebuilders Green and LEED scoring. The design of the new home is by architect and LEED AP, Allison Beer and project designer Jessica Farmer, both of whom are donating their services while also being supported by their firm SHP Leading Design.
The four bedroom, one-and-a-half bath home has many green features, including high performance windows, a ground source heat pump, low VOC carpeting, and an Ecogrid driveway/sidewalk that allows stormwater infiltration. Organization leaders say that the model will serve as a prototype for changes CHFH hopes to incorporate into future builds.
Once the four-month build is complete the home will belong to Felita Jordan and her two daughters who are excited to move into the new home.
"My children and I are a loving family and we have been waiting all of our lives for an opportunity like this to build and buy our own home," said Jordan. "Our current apartment is very crowded and we need more space. My family is so excited to have our own home. It is something we have always wanted."
You can support Cincinnati Habitat by attending a young professionals happy hour event at Neon's Unplugged on Friday, July 19 from 6pm to 9pm and will include live music.  You can also follow Cincinnati Habitat on Twitter @CincyHabitat and @CincyHabitatYP.