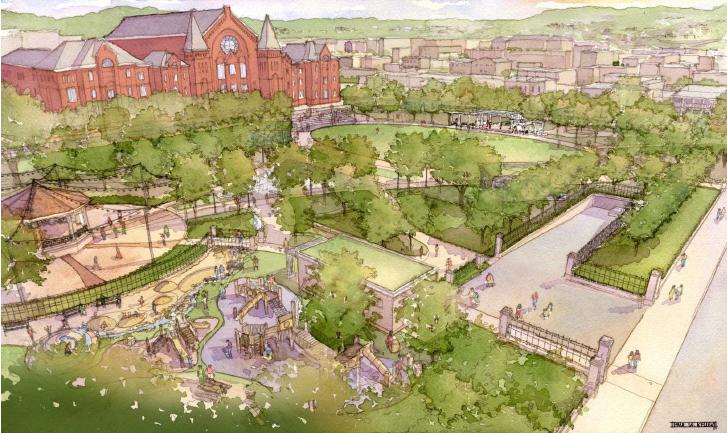 The Cincinnati Center City Development Corporation (3CDC) is currently in the process of working out details for a redeveloped Washington Park. The refurbished and expanded park will prove to be a major anchor for redevelopment efforts taking place nearby, but some existing residents have expressed concern over what elements are included in the final design.
Quite simply, not all desires will be able to be met for both logistical and financial reasons. But much of the concern has been over the removal of the existing swimming pool and basketball court. The swimming pool is to be replaced by a splash ground that does not bear the sky-high insurance rates that are making municipally-owned swimming pools cost prohibitive. The basketball court is just not returning at all.
Personally I love the game of basketball and played pickup games through much of high school in addition to organized ball. The problem is that basketball courts do bring a certain element to a park – one that does not mesh with the new design and focus of Washington Park.
It is natural for egos to be bruised in basketball, and nearly par for the course for a few shoving matches or fights to take place. No big deal, it is part of youth and how the game works on the street. The new park will include children's play areas, an open lawn for lounging and passive recreation, a plaza for theatre-goers to congregate, a bandstand, and a dog park to name some of the more prominent features. These lend the redeveloped Washington Park to an atmosphere that is not conducive for basketball courts, and I do not blame park designers or 3CDC for choosing not to include them in its redesign.
With that said, basketball courts do offer a great means of recreation and exercise. They are also ideally set up for an urban environment where their small footprint lends itself well to the high demand for space in urban settings.
Located just a couple hundred feet away, along the western side of Race Street, are three vacant lots (map) owned by OTR Holdings Inc. which is a wholly owned subsidiary of 3CDC. These vacant lots are almost certainly poised for residential infill development, or parking to satisfy the needs of future residents, but they could be transformed into two basketball courts.
This would go a long way in easing tensions amongst existing neighborhood residents, but also provide the neighborhood with a beautiful asset. The courts could be fenced in and secured during non-hours of operation. They could be well lit and offer the complete amenities of basketball courts in New York City and elsewhere. The beauty is that basketball courts do not need to be set within the confines of a park to be successful, and in fact, they actually offer a tremendous experience when tucked within surrounding structures.
There is a real opportunity to do this right and 3CDC should make sure the western part of Over-the-Rhine holds on to the public recreation facilities that satisfy the needs of both the current and future residents.  If you have questions, comments or concerns about the new Washington Park you can share them on a new website dedicated to making sure the transition goes off without a hitch, and with as much community support as possible.