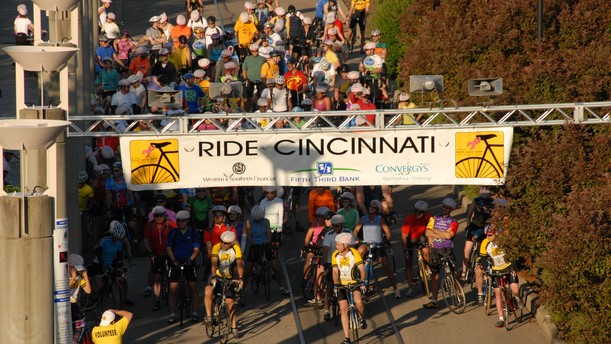 Nearly 1,000 bicyclists will take to the streets on Sunday, June 13 to raise money for local breast cancer research conducted at the University of Cincinnati's Barrett Cancer Institute as part of the 4th Annual Ride Cincinnati event. The bicycle ride ranges from 8.2 miles to 62.8 miles depending on the ability and desire of the participants.
Yeatman's Cove at Sawyer Point, on Cincinnati's central riverfront, serves as the starting point for all of the courses. From there bicyclists will cross the Ohio River on the Purple People Bridge, ride throughout Northern Kentucky and return to Sawyer Point for the finish and celebration. The first group will depart at 6:30am on the 62.8-mile ride, while the last group is scheduled to leave at 9am on the 8.2-mile ride.
Ride Cincinnati has successfully raised more than $500,000 for breast cancer research in its first three years. This year, event organizers hope to increase the size of the event and the total money raised. So far, more than $204,000 has been raised, with 981 participants. Online registration is currently closed, but late registration is still open at several locations throughout the city and even on the day of the event.  A full list of the late registration locations is available online, and donations are being accepted through Wednesday, June 30.
The post-ride celebration will take place at Sawyer Point (map) from 9:30am to 1pm for registered riders and their families.